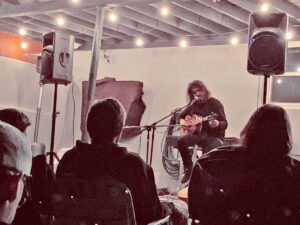 The last time I saw Lou Barlow live was in 2010 with Dinosaur Jr. He was generally a grump, hair hanging in his face and not talking until he decided to yell at an audience member for complaining that the music was too loud. Based on his stories he told us in this yard full of Gen Xers in Cedar Grove, NJ, he might have been going through some stuff back then. Though it seems like Barlow is always going through some stuff. How else would he engender this whole mopey rebel persona for so many years? Turns out, though, that maybe it's mostly an act.
So that's what makes this type of intimate show super-cool. It's like the straight white guy's version of cabaret. You know, play a song or two, and then riff on a story or two about life. Or the genesis of the upcoming song. Most of the latter revolve around Barlow either looking for, gaining or losing a lady friend. But it's super-casual and off-the-cuff. Which, based on my first Barlow experience with Sebadoh back in 1996, is kind of his thing. The rambling banter, the requests for songs he should play. The whole thing. Oh, and the three-hour concert. So maybe that Dino Jr. Lou isn't the true Lou. Perhaps he defers to J Mascis (who is notoriously not loquacious) as the band's "leader" and just puts his head down and plays the bass. Until, of course, some idiot tells them to turn their amps down and he can't help himself.
In any case, this Lou is an open book. He told us some funny stories. Some sad personal stories. And just some quirky ones about traveling for this Backyard Tour with his mom and a tiny Sears & Roebuck guitar he's had since he was a teen. A guitar that has some serious issues staying in tune. The whole thing had a very DIY feel to it. Considering Lou set up his own monitors, we sat on a lawn in our own folding chairs and the home owner's adorable dog greeted us pre-show, it was indeed DIY. We even helped Barlow do his soundcheck. And some folks bought random merch afterwards from what I think was a shoebox. The house sat on what I think must be a nature preserve and/or reservoir of some sort, so runners with headlamps could be seen through the trees behind us. I'm just trying to imagine running by this house and hearing some dude belting "Soul and Fire," and that dude is the actual singer of "Soul and Fire." It would have been the coolest run ever.
So there we sat on a humid, overcast, but pleasant NJ night in a stranger's yard. The lovely folks who hosted gratis apparently got to hang with Lou and his mom for a good chunk of time, even feeding them some pizza and stuff. And then we got to sit for three hours listening to a dude on a tiny guitar (and another not-as-tiny guitar) and maybe a ukulele play 33 great songs mostly about break ups, being a terrible friend and maybe psychedelics? The playlist (minus a couple cassette-only songs) is below in the order in which he played them. It was a nice smattering of mostly Sebadoh, some solo stuff and a couple of his Dinosaur Jr. songs. Frankly his voice was a little beat (something that I didn't notice, but he kept mentioning) and he had this weird throat thing where his H sounds made him sound like he was doing his haftarah portion, but that made the experience that much more unique and homey. He sounded good, despite his self-professed tired voice. And the crispness of the audio made the really interesting chord choices that he makes stand out even more than on the tape-hiss and electric recordings of the same songs. And the the stories that went along with the songs made them infinitely that much better. Even when he forgot the lyrics to his own songs that people had shouted out in a couple instances, it felt more fun. I got my shouted request, "Vampire," played, so I walked away happy.
I know COVID has been tough on all of us. And especially artists who rely on touring to make a living. We have some upcoming shows to see at indoor venues, and I'm very excited to see them. But these types of backyard or living room shows really give us a glimpse into the artists we love, their process and their lives. And I hope that they are able to continue to support themselves with some of these smaller shows when they're not out on their main tours. Because, frankly, it's really cool for the fans. Rock stars, they're just like us.