Just like
2012
and
2011
before it, I figure it's my duty to clutter the musical landscape with my completely uneducated opinion about the best albums of 2013. Now I'm not a professional (obviously, duh) and don't get free CDs or thumbdrives or however they send music these days, so my list of albums I actually acquired this year probably hovers around 50 or so. So even for me to get to ten great albums, I'd have to adore 20% of the albums I added to my collection this year. The chance of that happening is pretty slim. So, due to my relatively small pool, and sheer laziness, here's my list of my top eight (8) albums from 2013. Besides eight being my lucky number and just being generally awesome, I think it's a workable number to deal with.
Chance the Rapper – Acid Rap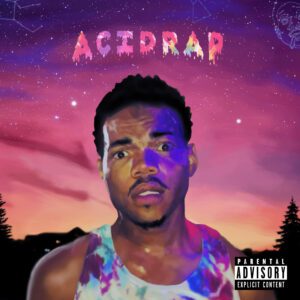 Download
Maybe it's just me, but it seems the fun has gone out of hip-hop. It's not to say fun is what the genre is all about, but back when I was really into the whole thing (like when you could still buy cassettes), there was a spirit of aspiration and the desire to move the people with their the music. And then the stuff became templated and rote and just dismal. And in most cases remains that way. Even the stuff that is supposed to be good. But there are some exceptions. Like this guy. He's young and certainly wears some of his influences on his sleeve. There are tinges of our old stoner rappers, The Pharcyde, the hip-hop bard, Eminem, and some of the innovation and soulful cadence of R&B man-of-the-moment, Frank Ocean. Chance also gets the helpful assist from some pretty decent co-conspirators in Childish Gambino, Action Bronson and Ab-Soul, all of whom add terrifically complimentary styles layered on top of his. The songs are catchy and fresh sounding and full of whimsy. Yes, whimsy — on a fucking rap record no less! To think this guy is giving this album away for free (probably obligated to do because of the samples, I imagine), is just plain amazing when it's better than just about 98% of the retail hip-hop albums I've heard over the past bunch of years. In fact it seems that most everything good is a mixtape these days. Who the hell is making money in this business anymore? Whatever the case, this is on my favorites of 2013 list for sure. And it's been quite a while since a rap album has taken that spot. Do yourself a favor and download it.
Connections – Private Airplane
It feels these days that rock and roll has lost some of its unbridled glee. I blame guyliner and skinny jeans for its downfall. Not that those two things are modern in any way, but there seems to be a self consciousness thing going with rock music these days — a stylized movement — that tamps down the thing that rock and roll is supposed to be. It's supposed to be a working class Bob Pollard in Chucks with a Bud in his hand doing mic twirls and chorus line kicks. So here is a band taking over that mantle of straight ahead fuzzed out rock music. They are clearly Guided By Voices idolaters, with everything from their cover art to their recording style to the songs themselves, but they employ their lo-fi in such a way that it feels genuine and without some of the intentional audio hiss and stammers that marred some of the best early GBV tunes. Their genre is relatively unclassifiable much in the way a no-name saloon with a single 'bar' neon sign, a long wooden bar and a simple menu can't be called anything but a bar. This is nothing but rock music, with some of the earmarks of classic fifties, sixties and seventies swing and swagger. No adornments, no gimmicks, no snark. I love getting surprised every once in a while, while at the same time feeling a deep sense of nostalgia and desire for a second and third spin. Top ten album of 2013 for me so far, for sure.
Mikal Cronin – MCII
What rock music these days isn't in some varying throwback style? What's old is new and all that. It just seems that we've explored all the musical genres at this point and all that's left are hybrids and mashups of rock 'n' roll history. After all, there are only so many notes to play, so many beats to beat and pop norms that will appeal to the human ear. So that's why you end up with this album. With songs like 'Piece of Mind' that remind me of Paul Simon's 'Kodachrome.' But most of the tracks have that sunny 60s / 70s pastiche over a mid-nineties bed of grungy guitar pedal that feels like almost an indie version of a New Pornographers record. And in its throwbackiness and familiarity is that level of comfort that makes this a good album. Nowhere does he stretch the limits of the designated genre established by the first track. He doesn't test the listeners' ear to see how much noise he can take. He stays in the pocket (so to speak) that feels good in your blood and begs to be listened to on a worn leather couch or slingback chair. It's warm and inviting, but at the same time not boring or staid. And sometimes, as a lover of music, there's nothing more you can ask for.
Haim – Days Are Gone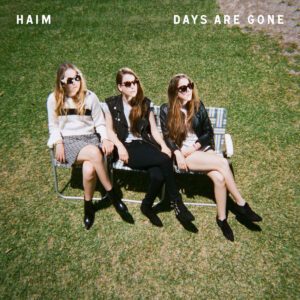 There's so much about this album that I really want to not like. There's like some serious Taylor Dayne action going on here, which would normally make me run screaming — and there are times where my constitution is at its breaking point — but then I dig deeper and hear tones of The Strokes and even Billy Squier on songs like "The Wire." Not that I'm a Billy Squire fan or anything, but their weird soft-rock, 80s/90s R&B amalgam that is often twee as hell can also employ some guts at times. There's mostly just something oddly nostalgic about their tunes that feel like they'd run over the end credits of an imaginary John Hughes movie you just fell in love with. I wouldn't think this relatively pop-forward album would test my sensibilities the way it has, but there's something about it that makes me feel all warm and fuzzy inside whereas so much modern music leaves me cold.
Robert Pollard – Honey Locust Honky Tonk
Fuck yeah, Bob. Where ya been, man? It's as if he's been taking the best tracks from each one of his last 17 releases (which would only be like a year's worth of albums) and released this as like the greatest hits made up of those tracks. I can't claim to have kept up with his breakneck output, but it's honestly one of the few solo albums of his that I've truly enjoyed front to back. The thing has that youthful bite of the early GBV stuff which I feel has gotten bogged down over the years by Pollard's resistance to record real songs in a real studio and his penchant for throwing partially constructed tunes and ideas on tape and calling them "songs." This one felt more fully realized in terms of having real songs on it, and feeling like an actual album with a tracklisting that flowed and had some variation and peaks and valleys and some serious pop hooks. I'm not certain why he went with the whole honky tonk moniker and his weird cowboy photo booth imagine in the cover, but with the exception of a couple country-ish rockers I suppose he was just kind of running out of album titles what with his prolific craziness and all. It is amazing to me that a guy who is in his, what, like mid 50s at this point is making some of the better music of his career, even if it does harken back to an era decades ago when his high-kicks were higher and his audience like me more willing to shell out their dough for a CD filled with exciting music that spoke to us. Welcome back old man.
Savages – Silence Yourself
Right out of the gate I'm thinking second coming of Elastica. Though that comparison is relatively fleeting, as the obvious Siouxsie and the Banshees thing rolls on in with its tribal, almost witch doctor feel. You can picture the black leather and flames, grimy clubs and sweat. It has that perfect post-punk thing that is somehow passionate and emotional but distant in its sheer coolness. This wasn't an album I truly appreciated until I sat down and listened to it with minimal distraction through a decent pair of headphones with little background noise. And then I heard shades of PJ Harvey's "50 Ft Queenie" and Public Image Limited, but more consistent and less kitschy. It's rare these days to have what amounts to a real rock 'n' roll band both fronted by and made up of all women. Sure, you'll run across a band or three with a chick singer or bassist, or an indie band or two that has somehow spun off of Sleater-Kinney, but to have a true rock band with all the trimmings featuring all chicks is pretty cool. I imagine they're not going to pull any L7 tampon craziness, but hopefully they'll stick around and keep up the attitude for a while and not be a one-album flash in the pan. Rock could use something different these days, and they seem to have it in spades.
Swearin' – Surfing Strange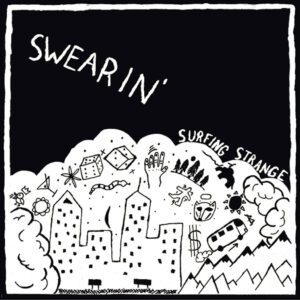 Buy on Amazon
Swearin's first, self-titled album was on my list of best albums of 2012, so you could imagine my joy when they followed it up quickly with this 2013 album that gets going right out of the gate with more throwback early 90s college radio rock. I can almost imagine myself sprinting to the student-run music store for the CD and greedily struggling with the shrink wrapped jewel case before shoving it in my sweet Kenwood 5-disc changer with Belly, Veruca Salt, The Breeders and The Blake Babies for a rockin' chick party. It wouldn't sound out of place at all, though it might shame them all with a lot more consistency and sonic intricacies. While this isn't a stretch from their first go at it, the album still feels kind of unplanned and organic in a way that is missing from today's music and harkens back to a time (you know, like way back in the early-to-mid 90s) when rock 'n' roll was less art and more soul.
Vampire Weekend – Modern Vampires of the City
These guys are funny. They're kids from Glenrigde, NJ who write kind of pretentious songs in the key of Paul Simon and wear ascots and play house parties full of rich, white kids. Or at least that's kind of how they've been painted — and honestly at times this feels pretty dead on. That said, despite my vague hatred for world music, I've been a fan of most of their prior work. They really fit this niche that's underrepresented: adult music that somehow still feels somewhat hip. Though hip is a really subjective thing, as there has been a return in indie rock music in the last handful of years to the slacker aesthetic of pretending to not really give a shit about what you're writing. Like putting effort behind your music is for poseurs and sell outs. These guys, though, seem earnest in their craft. Which, by the transitive property of hipsterishness, means that they are so earnest as to go against the grain of not being earnest that they in fact become hip. Basically they are the Weezer of their day. And, yes, I know Weezer is still around, but I'm talking Blue Album / Pinkerton era. This album represents a departure of sorts. It feels way more grown up, for one. And with an adult sense of ones' self comes retrospection and introspection. Or at least you hope it does. Generally these two things don't uncover giddiness and positivity, but melancholia and regret. It's not to say the album is sad and/or overly dramatic, but there is a certain sense of urgency in the songs to outrace a past that is trying to catch them and a future that is escaping them. It certainly doesn't have the breeziness of some of their older stuff, but the music somehow stretches both wider and deeper, really bringing nuance with each and every listen. I've put this thing on repeat and probably heard it five times in a row, which would normally drive me crazy, but it somehow didn't even feel like it was cycling through the same songs over and over again. I'm just not sure there is another band these days that is less afraid to put their originality out there in this way. They really don't sound like anyone else and that, in this day and age of samey-samey dance floor hits, is quite refreshing, even if you think snobbiness isn't something you look for in your music.