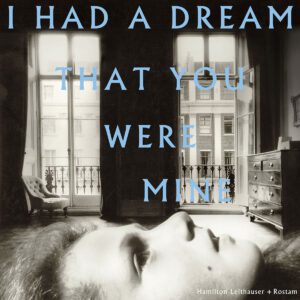 The Walkmen are one of those bands that many claim to like, but few have actually heard. Perhaps it's the semi-generic name (or ridiculously nostalgic one depending on your perspective and age) or their exposure to one of The Walkmen's most enduring tunes, "The Rat." Vampire Weekend are similar to a lesser extent, as they hit mainstream success that The Walkmen never really enjoyed, mostly on the back of a couple tunes that made their way into car commercials and a timely entry (about seven years) into the desolate landscape of indie rock for which they were rewarded with multiple big-time interviews, magazine covers and prime time tv gigs. Kind of The Strokes light.
Thing is, both bands have been pumping out decent music way past their peak (including, to the biggest extent, Vampire Weekend's best-of-2013, Modern Vampires of the City). And like most good bands that have been around for a while, members strike out on their own to record solo albums, like Walkmen lead singer, Hamilton Leithauser, and others leave the band all together to find themselves after years of touring and playing, like Vampire Weekend's multi-instrumentalist/producer Rostam Batmanglij. Now, how folks like these two hook up is beyond me, but it's a pretty good thing that they do.
So what comes of their collaboration? Well, you get something that sounds remarkably like a cleaned-up, very well-produced Walkmen album. Mostly because there are very few people who sound like Leithauser. His voice is a distinctive Dylanesque rasp, but in a more tuneful Paul Westerberg kind of way. The moment you hear the music escaping his mouth there is no doubt who's singing. And the music itself has that shambling kitchen gypsy thing that the Walkmen are so excellent at producing. It's like melodic Tom Waits backed by a rogue's gallery of hipster angels. Layer in some of the worldly variations that Rostam brings with him, and the incredible, almost Arcade Fire-like soaring production and it makes for a pretty compelling listen. Though it's a listen that has at its heart a purposeful varying of style from song to song, but a sound that really ties the album's aesthetic together. An aesthetic that feels very, very nostalgic, sometimes like a Beirut tune and other times in an actual oldey-timey way. But produced in a modern manner that makes the whole thing sounds incredible in a pair of headphones and a real slow-grower that will work its way into your heart.