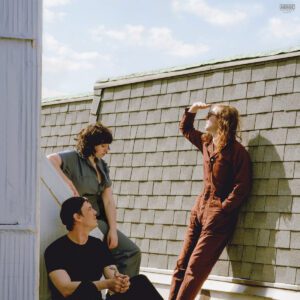 There's something warm and inviting about boy/girl singing. Even if it's not at the same time. Like Blake Babies or something I used to jam out to in the Discman in my Chevy S10 Blazer while driving to my first post-college job in Hollywood. Yeah, I know that's super-specific and not particularly relatable to millennials and that's the only audience anyone cares about targeting, but I'm also alienating anyone who didn't grow up or live in LA at any part of their lives in a city where driving while keeping your music from skipping isn't a thing. So I'll continue my trend of self-destructive blogging behavior, and if you can get past my insolence maybe you'll take my word anyway and listen to Swearin' like a good boy (or girl).
Bordering on the dreamy indie pop rock of the 90s, Fall Into the Sun is like a warm hug. It has the swing and just that right amount of twang to burrow into your rock and roll tingly places. It's not going to blow the doors off things or make you want to throw bro fists in the air, but it's like a good version of Butterglory — which I just realized shares the Merge label connection — that settles in with its understated hooks and little personal details that make the music really hum (both figuratively and actually). The band actually broke up in 2015 when co-leads Allison Crutchfield (twin sister of Waxahatchee's Katie Crutchfield) and Kyle Gilbride broke off their relationship. How does that saying go? Don't shit where you eat? Hmmm, I don't think there's any actual shitting here, but you get the idea: when the couple singing and writing the songs breaks up, it's not great for band chemistry. But, luckily for us, the two must be super-adult-ish and decided to get the band back together in 2018 to open for Superchunk (because, Merge).
And this album definitely feels like a more mature effort than their pre-breakup, 2013 album, Surfing Strange. Though I really liked that record as well. This one just maintains consistency throughout, giving us pop gem after gem. The front man/woman take turns on the mic from one song to the next, which gives the thing an almost Sebadoh-ish quality in terms of pacing and songcraft. It avoids the problem that so many indie records do of getting too samey-samey. In fact, the tracks are so good and the styles so different that I'm having trouble picking a favorite. It's like two, two, two albums in one. Sure, it's a little awkward when Crutchfield is singing about her ex and vice versa, but there's nothing like harmonizing about your own heartache. One of the best of 2018 so far.