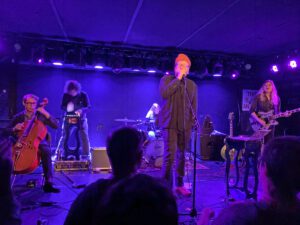 Mike Doughty (formerly M Doughty) is a complicated guy. He was the lead singer and creative engine behind 90s cult-ish jazz/rock fusion band, Soul Coughing. Since the band broke up in 2000, Doughty has released a bunch of solo stuff to varying degrees of success while he struggled with addiction and his somewhat prickly personality. He actually put out stuff on Dave Matthew's ATO label for five years between 2004 and 2009, but is seemingly self-releasing since. Having always resisted his Soul Coughing past — whether it's because of the incredibly contentious relationship with his ex-bandmates or just an urge to move on — it's pretty fascinating that he's chosen to spin up a 25th anniversary tour specifically to play the band's debut album, Ruby Vroom, in its entirety. Every night for what I assume is months on end.
But what may be a painful, yet cathartic excercise for him is a great, nostalgic experience for us. Having seen Soul Coughing in the mid-nineties more than a couple times on the back of Ruby Vroom, we remember energy-filled, fun shows. A standup bass, drums, guitar and a sampler (or two). All set to what can only be described as a weird form of beat poetry and relatively nonsensical scatting intertwined with some emotional nuggets. Back in the days of Pavement and Sebadoh (which were awesome shows in and of themselves), it felt singularly unique and celebratory and very New York.
Fast forward to 2019 and here we are at the perfect venue for the reformation of the experience: Mercury Lounge. It's not the old Knitting Factory where we saw them back in the day, but the intimacy is there. We stood within drooling distance of Doughty as he worked Ruby Vroom's tracklisting song by song. This time, though, the lineup behind him consisted of a funny dude on a cello (which he played like a bass), a seemingly 12-year-old drummer, a wild-haired dude from Hawaii on the sampler and another young lady on guitar. Instead of the former setup where he was the young frontman with the older, experienced guys behind him, Doughty's the grizzled vet with the kids backing him up (with the exception of the cellist, who was age appropriate).
In order to not bore the hell out of himself by playing the same playlist every night, Doughty did this thing where he conducted each song. He'd point to one of his people and they'd drop out or come in on his command. Honestly, it was pretty stressful watching them try to play and pay attention to his subtle hand gestures. The drummer missed one and Doughty seemed less than pleased for a moment. I wouldn't say they were scared of him… but they seemed a little scared of him.
The thing is, the music sounds good. The combination of the venue and the kind of separate channels of the composition itself makes for a really clean experience. The drums sound awesome. The cello basslines sound really cool. The choppy guitar lines are crisp. The samples are wacky and surprising (and different than the recording). And Doughty is quirky and his banter, just like his music, is oddly hypnotic in its repetitive nature. He just kept introducing the band members over and over again. And had some oddball banter with the cello player.
It'll be interesting to see how long Doughty decides to play out this Ruby Vroom tour. The music, in its uniqueness, has a reasonably timeless quality. It feels like it could have been written last week. Except people aren't really doing this type of hybrid music anymore. So maybe not. Whatever the case, this album brought us back to a cool time in our lives. And hearing it live again was a total blast.