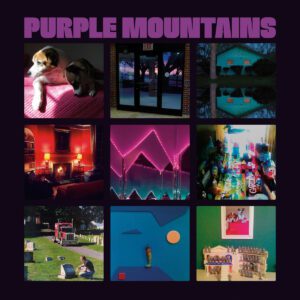 David Berman is a weird dude. He looks like Bret Gelman playing an aging indie rock asterisk. He was roommates with and collaborated with Stephen Malkmus in college, but somehow missed out being in Pavement. Instead he started his own gig, Silver Jews. Malkmus was a sometimes participant in this endeavor (along with some other Pavement folks), but the band was all Berman. His ostensibly alt-country sound wasn't what you'd expect from the son of a huge D.C. lobbyist and fellow Jew. But he put out five albums under that moniker between 1994 and 2008 and then just kind of went into retirement a year later. The band always felt like a pretty small, underground project to me, but his poetry-cum-country-troubador thing was always just this left-of-center fascinating anomaly in the indie rock canon.
Purple Mountains is essentially Silver Jews redux. And, you know what? That's just fine. I'm not sure Berman can do anything outside of his kind of honky-tonk, talking-out-of-the-side-his-mouth thing. His songs are filled with humor, but mostly at his own expense. The lead song, "That's Just the Way I Feel," outlines his struggles with substances, relationships and his mental state, but couches it in a kind of road-weary head shake. Track two, "All My Happiness Is Gone," is a pretty obvious ode to depression, and I think we can take Berman at his word despite the upbeat melody that his life is still shitty. When track three is called "Darkness and Cold," I think we're starting to see a pattern here.
Despite the seemingly downbeat (and most likely drunken) themes of his songs, there's something oddly uplifting about his outlook. It's not all Raymond Carver and Bukowski. There are little glimpses of hope in the darkness. But like really, really few. Outside of these positive glimpses (of his mother, a cat and a warm blanket), it's honestly pretty depressing stuff. But there are signs that Berman wants to make a change, but isn't quite sure how to make that happen. What with no god, a personality that apparently turns people off and a penchant for drinking in shopping malls, it's clearly a struggle for him to find that spark of hope. The album does come off like an extended shrink session at times, but unlike some of the emo stuff out there, you know the guy has lived the life he sings about. And that in and of itself makes it interesting and worthwhile. I do worry for the dude a little bit, but at least he's willing to put his pain on tape for us to consider and even enjoy in a pretty twisted kind of way.