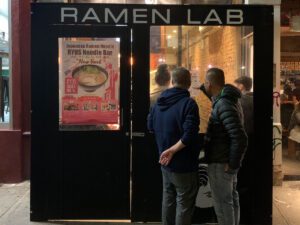 [CLOSED]
I am ashamed that I've eaten very little in the way of ramen. My first experience was a mere eighteen months or so ago at Momofuku. So at least I had it somewhere cool. Honestly, the only reason I haven't had more ramen is because I don't generally eat pork things and ramen seems to be mostly pig. Luckily both Momofuku and Ramen Lab had one chicken option for me. Thank the poultry gods.
So, what is a Ramen Lab? It's the world's smallest space. There's room for about nine people. On their site they show stools at a small, L-shaped counter setup. There were definitely no seats when we went. You stand at the counter and you like it. You move out of the way when someone needs to get in the bathroom and you watch the chefs attempt to not sweat in the soup 16 inches in front of you. Of course it's walk-in only and the menu has 'round about five things on it.
It wasn't until I went searching for their menu after eating there that I even realized that what makes it a "lab" is that the space itself is merely a space and not a restaurant. It is a space that rotates different ramen restaurants from all around the world into the space. So the menu changes all the time depending on who's cooking there.
Our menu was from Ryus Noodle Bar, which is apparently a little ramen joint in Toronto. This is a pretty brilliant idea, and probably something that happens all the time, but is a totally new concept to me: the permanent pop-up restaurant. I've looked at the subsequent menu after we went there and there is nothing but wall-to-wall pork, so it was miraculous and serendipitous that Ryus has a chicken-based noodle dish called Tan Tan Men for me. It consists of dried shrimp and sesame broth, thin noodles topped with spicy ground chicken, Chinese chives and a sesame and house-made spicy oil. And it's rich and warm and spicy and herby and now I get why people like ramen. I mean, this is probably a pretty untraditional version, but it was definitely tasty as hell and was made even better with some cheap Japanese lager.
In terms of the experience, it was pretty fun standing up and eating while your food is being made in front of you. It's definitely not swanky or probably a joint you want to bring a date, but it's fun and different and a place you can go back to over and over again as they rotate menus. I mean they make a lot our of their ten-foot by twenty-foot brick-lined box and steamy, little open kitchen. It somehow feels like something you might actually see in Japan. Though the closest I've been to that country is Hawaii, so I have next to no proof that's the case. Anyhow, seek it out. Go early, go on an off night and wear comfortable shoes.
---
70 Kenmare St. (bet. Mulberry and Mott St.)
646/613-7522
---