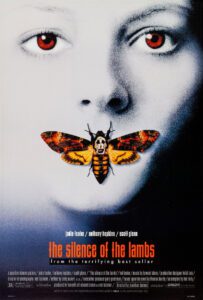 I saw The Silence of the Lambs at the Regal theaters in the Carousel Mall in 1991. And while it pretty much took over pop culture for what felt like years afterward, I recall not absolutely loving it the way everyone else did. For years I've thought there's something wrong with me and that while everyone found the movie scary and riveting, I found it… kind of goofy. And just a tad boring. To be fair, psychological horror thriller type stuff has never been my jam. But this always struck me as living in this weird middle ground between crime thriller, horror and a kind of FBI procedural. It just felt like there were a lot of hands in there telling director, Jonathan Demme, to pull back where he should have gone full throttle.
And, yes, I know some of this sounds like revisionist history. Me watching a lauded 1991 film in 2020. But I swear I felt kind of lukewarm about the thing from jump. I mean, sure, I liked it because it was a popular film that we could talk about and quote from and all that, but I think that we've all built it up in our minds over the years to be something it wasn't. That's all to say it didn't age well. Mom jeans aside…
You know the story. And if you don't, you've been living in a hole. But there's a serial killer nicknamed Buffalo Bill (Ted Levine). He kidnaps, kills and skins young ladies. It turns out that he was formerly connected to a patient of another serial killer, Hannibal Lecter (Anthony Hopkins), who is an incredibly intelligent psychiatrist. Who also happens to be a cannibal. Do we think his first name encouraged him to commit eating crimes that happened to rhyme? Odd. Also odd (and incredibly coincidental) that a guy who lives in Ohio went to a serial killer psychiatrist in Baltimore and was also dating a serial killer? The movie is filled with these kind of unexplained coincidences and geographic anomalies.
And, look, Jonathan Demme seemed like a good guy. Good directors shout him out as an influence. But this movie is not well directed. There are all sorts of camera moves that are hokey. There are close ups of people shaking hands or other innocuous activities that are just confusing. I know he loves using close-ups of actor's faces, but there's a scene between Jody Foster and her co-agent Kasi Lemmons that is so close-up that there seems to be no other reason than to make the scene romantic, or inevitably leading to romance. Though it doesn't, and I don't think it was intended to be. He definitely has two compelling-looking actors in Jodie Foster and Hopkins (who often have the camera caressing their faces), but he pulls out that trick a few too many times and it becomes more distracting than effective. Even the action throughout is shot as though he's avoiding something. It's not great. The final showdown between Bill and Clarice Starling (Foster), which I remember being horrifying, is pretty flat in the rewatch. It just happens way too quickly and the editing feels abrupt and bordering on inartful. Also, this movie was never meant to be in super HD. The clarity exposes some of the not-so-great sets.
I kind of want everyone to go back and watch this film. It comes off as almost quaint. The scenes where Lecter tries to psychologically torture Starling are very short and escalate way quicker than they should. If this was a television series, or even something willing to be darker, those scenes would have been much longer, more involved and, frankly, better. It's distracting enough that Lecter — who is supposedly from Baltimore — has this bizarre accent. And that Foster, who is three-and-a-half feet tall and looks twelve, is sent in as a trainee to take on the smartest man on earth. The smartest man on earth, not the strongest. So it's completely stupid that this 50-something dude is somehow able to flay and string up a 200-pound guard in what amounts to a few minutes. While also throwing another man down an elevator shaft and fashioning a skin mask. It's absurd. And anagrams. I guess that wasn't an overused trope yet in 1991?
Just so much of it feels of another time. And maybe all films from the late eighties and early nineties feel this way. But things like Goodfellas still feel vital. This one had these ridiculous scenes of cops with six-shooters coming through doors in almost choreographed musical fashion. It was laughable and just shockingly not modern. And that whole feeling just stuck with me throughout. Like Demme made a lot of the police work more performative than realistic. None of it rang true. And often times just came off as silly. The whole movie, in fact, felt almost tongue-in-cheek and unserious. And maybe it's just an age thing, or maybe it just wasn't as great as everyone thought it was just because it was immediately different and nostalgically quotable. Herd delusion. To add, shouldn't it have been called The Screaming of the Lambs?