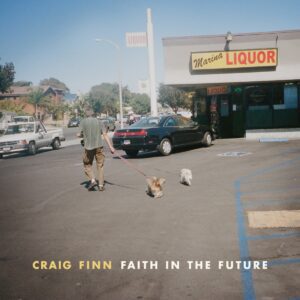 I guess this is Craig Finn's Tunnel of Love. Me? I was hoping for more of a Born In the USA thing. Granted, I don't think The Boss ever talked about God this much, even when he was getting introspective and sober. But like his idol, he tends to have kind of one gear and one line of melody or cadence that he then surrounds with a bunch of schmutz that jazzes it up to the point you forget the underlying song is really, really similar from track to track. There is a song called "Trapper Avenue" that I swear is just a slowed-down version of a Hold Steady song, but couldn't place it exactly. So I looked it up and it turns out that, no, this was an original and not a re-recording or re-imagining of another song. I'm still skeptical.
This is a guy I've been listening to for a while now. From back in his
Fiestas and Fiascos
days, when he was the most annoying man in indie rock. It was never clear if this was intentional or just the way he was. This insatiable storyteller about night life and the downside of the suburban party lifestyle. That guy still exists, but now he fights with his devout Catholicism and age. Maybe that first part was always there, but he kept it under wraps, or was more subtle about it. I have no problem with dudes wrestling with their religious demons (hey there,
Dave Bazan
) and I can even forgive somme who overstay their welcome in the rock and roll arena (sorry,
Weezer
) but when it seems to be the factor or factors that deflates or rounds off that edge, I wonder if maybe it's time to either shift gears or get out. Rather than making a dull version of what your music once was, change it up, address a new audience, or pack it on and go work a day job. On this album, and on most of his stuff of late, it almost seems at times that Finn is playing the reluctant penitent or the shackled preacher instead of the life of the party, and it's not a good look on him. He needs to explode with that manic energy, backed by a band doing the same, or just let it go.