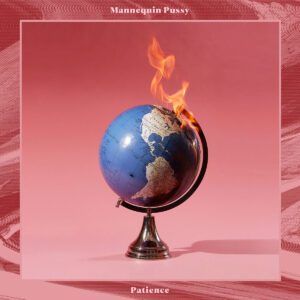 Truth be told, I only decided to review this album because I wanted the name Mannequin Pussy splashed across the front of my stupid website. It has to be one of the more embarrassing names to say out loud, but certain evokes an image. An image that I'd wondered about in a really specific way for the past couple of decades, along with at least five others. Especially if you, like me, saw the 1997 cinema classic Mannequin in the movie theater not once, but twice. And then, because you were so enamored with the thought of, uh, mannequin pussy (Kim Cattrall's specifically) you went back in 1991 to watch weirdo Republican, Kristy Swanson, star in the sequel, Mannequin: On the Move. My biggest question, being the youngster that I was, was specifically around Kim and Kristy's anatomy and how the hell that worked. Seems I'm not the only one.
Luckily for all of us, this band was clearly going for shock value with the name — or something political that I don't understand — and has absolutely no connection to what I'm sure in retrospect were two movies filled with misogynistic garbage. Instead we have a vaguely punk-ish four-piece from Philly. Led by vocalist Marisa Dabice, their music is definitely eclectic in that it's not all quiet and not all screaming, but has generous doses of both. Dabice's voice can be light and almost pretty, but then turn quickly into a shredded scream. There's a laid-back aggression to their music that evokes moments of Hole, or like a more robust version of Bully. It's this ability to swing from softer moments of introspection to all-out rage that provides a way more dynamic and engaging experience for the listener.
Mannequin Pussy isn't going to light the world on fire (despite their cover art), but it is certainly a quality entry into the indie rock category for the latter part of the 2010s. I know I constantly bemoan the downfall of rock 'n' roll in this era, but there are bands like this that seem intent on keeping the ball rolling into the 20s and beyond. They take a dash of the past, mix it with some modern updates, write some good hooks and hopefully gain a new following of people who care about more than the single of the summer. It's heartening.