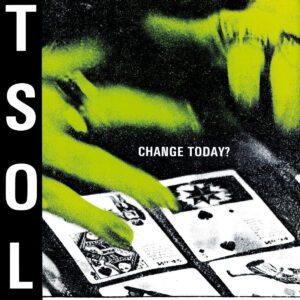 Goth rock was an underrated corner of the 80s rock world. Especially for angry teenagers living during that time. Not the murky swirling stuff, but the music that came out of hardcore. Taking the anger and pace of that genre, slowing it down a little bit, pumping up the bass and making your lyrics as esoterically dark as possible without like talking about Satan or anything.
It's not necessarily a lane that makes you think about T.S.O.L. A band whose earlier music was more fast and loud grimy rock club punk. And its later stuff much more glam rock a la The Cult's Electric or Danzig's Self titled album, Danzig. Mixed with some Guns N' Roses, I guess. But this album, Change Today, went full The Damned / early The Cure on us. Those sweet, sweet heavy bass lines, the almost horror movie singing style and the blistering choruses.
And all from a band from Long Beach. You'd think, listening to them, that they come from some dreadful pit of a coal-lined British berg. But, no, these dudes are making perfect pop goth rock songs from the sunny confines of Southern California. How this album wasn't a smash I have no idea. Even on songs like "American Zone" that sound like a Bad Religion song run through the 80s war-is-hell filter.
Even in 2020 I'm really digging this record. It has energy and a production that gives it some heft. And some heart. I wouldn't call the music complicated by any stretch, but there's certainly some of that Doors swag (a band I truly hate) with a doom overlay that keeps it from being too carnival or darkly goofy. Look, I know it's not a classic or anything — and is probably not even the best known album in a catalog of a band that itself is not terribly well know — but it's a cool record to rediscover and makes for a cool weekend rockin' time.