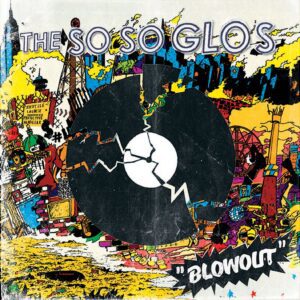 Recommended on a Podcast by Patrick Stickles of Titus Andronicus, I can't believe I never heard these guys prior to getting that mention. After all, they are local Brooklyn products (brothers, all Bay Ridge born and bred) that play bratty punk music that feels like some awesome mixture of The Exploding Hearts, Beastie Boys (more in attitude and locale than style) and the better Libertines songs. Which is to say Rancid disciples, but the pop Rancid and not the harder stuff, and even the early more punk Elvis Costello tunes. It's party music for a more discerning crowd, clearly meant to be played in a loud, grimy club with sweaty kids jumping all over each other. If such a thing still exists. Though, the band itself is doing its best to make sure it does, as they are the founders of both the Shea Stadium and Market Hotel music venues in Brooklyn.
Look, the lyrics aren't going to blow your mind or win any poetry awards, but that's not the point of this type of music. And, honestly, is seldom the point of most rock music. They're trying for attitude and fun, energy and
Clash
idolatry that still sounds modern and left of the pop mainstream, but without swerving into that other experimental garbage that so often assaults us from those various Brooklyn avenues. My next goal is to fire up their other two albums to get the backstory that led to a pretty impressive junior effort.