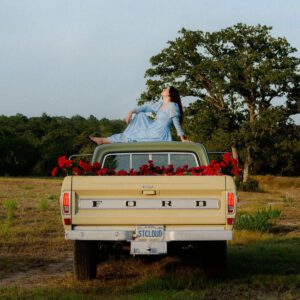 I listen to Waxahatchee and I'm confused. This album, Saint Cloud, has this kind of adult contemporary, singer-songwriter type thing. Like a more traditional Sheryl Crow. But not. Because it's on Merge and as such has indie cred and a sound that somehow belies what on the surface comes off as relatively unremarkable pop music.
The funny thing is I can't quite figure out why. Why do people have such allegiance to Katie Crutchfield and her Waxahatchee project? What is it about her somewhat lilting voice that falls somewhere between Edie Brickell and Lucinda Williams? What with her country twang that nods somehow to 90s college radio, but brings it into this alt-country thing that blends genres into a really pleasant amalgam.
And that's the thing with this album: it's not in any way challenging. Which I suppose should be fine. A lovely midtempo tour through pop-tinged alt-country should be a tonic for today's awfulness. And it really is. Like a stripped-back Yankee Hotel Foxtrot. Something to throw on the stereo and vibe to. No sharp elbows. No crashing experimentation. It's a sun-drenched day on some southern porch.
As I've said a million times, I'm not a lyrics guy. There may be thematics here that I'm not hearing (or listening for), but it comes off as all sunshine and moonbeams. Maybe it's Crutchfield's delivery. She could be singing about axe murdering babies and it would still sound kind of like a lullaby. All set to what sound like super-simple four chord progressions. That's all to say, this album isn't going to blow the doors off the place, but neither did 10,000 Maniacs. And that shit was huge. Same energy. Different times.