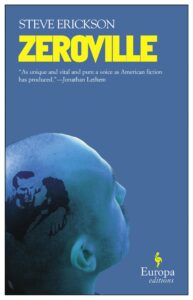 I studied film in college, yet the bulk of my knowledge about film is focused around bad cable movies from the 80s. Why is that? I guess I've always found black and white movies just a tad on the dry side, and a lot of popular "classics" from the 60s and 70s I find to have pacing that could kill a cadaver. I'm a bit of an anti-snob when it comes to film, I guess. Granted, I find most commercial stuff these days absolutely horrendous, so what do I know?
Anyhow, here's a book about a guy who loves films so much he has a scene from A Place in the Sun tattooed on his bald head. I haven't actually seen this movie, but there are very few films I like that much that I'd even get a t-shirt with a scene printed on it, let alone get ink on my head. Actually, a t-shirt with a replicant Daryl Hannah in a plastic skirt might be kinda cool…
So here's our main character, Vikar Jerome, with a tattoo of Elizabeth Taylor and Montgomery Clift on his dome, and an unnatural obsession with old films. It's 1969, and he's moved from Philly to LA to work in the movies. The first thing he realizes is that most people working in the movies don't know crap about them. Everyone who sees him figures the two actors on his head are James Dean and Natalie Wood. Being either semi-autistic, or just plain damaged, this sometimes infuriates him and invokes violent outbursts. That should teach people to start a conversation with a dude who would sit while someone repeatedly stuck a needle into his scalp. Freak time.
He does eventually land a job building sets for a studio, as he has an architecture background–although there is some question about that. Basically the guy is a bit of a mystery, and seems to just fall into groups much in the way Forrest Gump just kind of let the world lead him around. The character is one part Forrest Gump, one part Chance the Gardener fromBeing There, with a little bit of Rain Man mixed in. He seems completely unaware of what's going on in the world (the book spans a bunch of years, and we see the world moving along in the background).
Ultimately we get some insight into his background as he interacts with women and friends. It is a background of extreme religious oppression and deprivation. Clearly movies are his escape from this world. But even when he becomes a notorious editor (after having what is a meltdown incredibly reminiscent of a scene from Being There), and is hired to create his own movie, which one would think would be the pinnacle of his dream; he can't pull it together to complete his goal. It's never really spelled out exactly what his issue is, but we have to assume he's either slow, or just so Zen that I don't get it.
From the beginning of the book Vikar is having a recurring dream. It's religious in content, although he's not sure exactly what it means. The story goes a bit off the rails as he becomes obsessed with his dream and its connection to movies. The book then becomes a watered-down version of another book I read called Flicker. All of a sudden ghosts, religion and the history of film all mix with one another and we're stuck in what feels like a completely different text. In the end I'm not sure if Vikar is supposed to be a prophet, a detective or just another insane Hollywood person. Whatever the case, don't look for Zeroville in your local theater any time soon. It's just a little too out there to translate to celluloid.