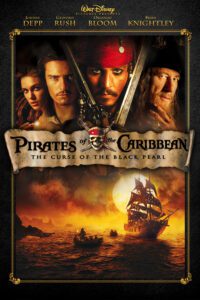 Billy, do you like gay pirate movies? Have you ever worn a Versace headscarf, blacked out your teeth and swaggered around like Tony Blair high on Quaaludes and champagne cocktails? Well, now Johnny Depp has–and he was nominated for an Academy Award! It's a scary proposition, Billy–the strutting, preening peacock who loves the ladies a little less than he loves himself. The non-homicidal American Psycho, maybe?
The funniest thing, of course, is Depp's penchant for picking oddball roles that swing dramatically from movie to movie, but always bring his own brand of quirkiness to them. Then they pitch him a role based on a ride at Disneyland and he accepts? Man is this guy unpredictable in his unpredictability. He's now starring in a Stephen King movie, for God's sake. The part of Willy Wonka in the upcoming Tim Burton remake almost seems tailor-made for him. It's honestly the role he was probably born to play.
Anyway, back to this film. If Kiera Knightley wasn't so absolutely hot, nobody would have paid attention to a single other character in this movie. Geoffrey Rush's character was alright, but could have been played by any number of British baddies, while Depp's channeling of Ziggy Stardust and Bette Davis was hard to ignore. Granted, he was the least intimidating pirate since Graham Chapman in Yellowbeard, although that wasn't what he was going for. I can't help but think there were a few viewings of Cary Elwes and Mandy Patinkin (aka Inigo Montoya) in The Princess Bride as well.
The plot of the film is pretty straight forward, as one might expect from a Disney movie, but is involved enough to remain entertaining. I guess it's a good sign that the two hour and twenty minute runtime didn't seem overly long. Like any good porn movie there were a couple sword fights, some swinging, a beautiful chick and lots of motion of the ocean (if you know what I'm sayin'). The film started to repeat itself a little towards the end, and the trajectory was pretty predictable, but you could certainly do worse for a weekend rental.
Somehow I don't think the sequel will garner Depp another nomination, or the film as much box office gold, but there's something to be said for a movie of this type, with wide appeal for both women (Depp/Bloom), men (Knightley), kids (they love pirates for some reason) and the critics alike (they seem to have forgotten this shit started as a flume ride surrounded by some animatronic plunderers and a dog with keys in its mouth.