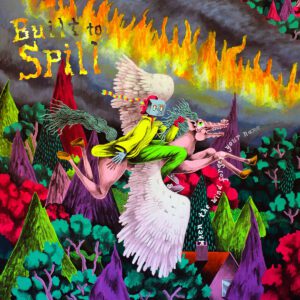 Built to Spill has been a band longer than it's been legal for me to drink. Because of that longevity I primarily think of them as a 90s band. This stems from my ongoing love affair with their first four studio albums that were put out between 1993 and 1999 (and 1996's compilation album, The Normal Years). But, until this album, When the Wind Forgets Your Name, they'd put out exactly as many studio albums in the twenty-two years of the 2000s as they had in those six years in the 90s. So, with four albums in the 90s, and now their fifth in the 2000s, does that make them a 2000s band? Not on your life.
Maybe it's because of their very workmanlike, Gen-X touring schedule. Or their commitment to making Built to Spill music thirty years on. But this is like every indie rock fan of a certain age's totem of sorts. In the realm of a Dinosaur Jr., but just obscure enough to claim a more authentic fandom. An almost grandfatherly coolness that is kind of its own thing. Anyone can claim to love Pavement, after all, but Built to Spill feels more inside baseball. A band with seemingly much larger aspirations if you were to listen to their music, but also more timeless in its approach. As a person who retroactively went out and bought everything in Doug Martsch's oeuvre, including the discography of his earlier band, Treepeople, and his Calvin Johnson collab, The Halo Benders, I would say that I was a devotee. And would name check them as a favorite for years. Until they kind of no longer became a thing in my mind, despite them continuing to record and tour post-2000. Shame on me, really.
So, what is 2022 Built to Spill up to? After all, it's been seven years since their last album, Untethered Moon. Well, if you're to listen to the intro of track one, "Gonna Lose," you'd be as impressed as I was. The rip-roaring guitars. The perfect Built to Spill moments of break down, build up and guitar heroism. All with Martsch's incredibly familiar high-pitched warble. And then it's over a mere two-and-a-half minutes later. Man, Doug, what happened to your penchant for seven-minute opuses? Opera? Did you know the plural of 'opus' is 'opera?' Me neither. Anyway, "Gonna Lose" turns out to be a bit of an outlier here. Which is unfortunate. The album, at only nine tracks, falls into this mid-tempo thing that isn't my favorite, uh, BPM. It's just a bit disappointing after hearing the muscular intro track.
It even feels at times like Martsch is goofing around, like on this slinky, stoney song, "Rocksteady." It kind of plods along. It feels like in the old days it would downshift into some sort of crunchy chorus. Or something beyond what amounts to some odd studio tricks at the very end of the tune. Not that their music was ever "serious" per se, but there is some floatiness going on across this album that feels like it could have been punched up quite a bit. But is content to just float along. I don't know if that's a production thing, or just the structure of the songs. But Built to Spill was always so good at playing with dynamics, and lot of these tunes feel a little samey-samey tonally within the songs themselves. And when there are dynamic shifts, they feel a little too distant and echoey to be truly effective gut punches.
Look, man, we all age. We all live on some modicum of nostalgia. We all wish to have back what we once loved. Our metabolisms. Our hairlines. Our close-up vision. Our indie rock heroes. The thing is, those albums exist. They were written and performed and they will always be with us. So this need not be that. Yet we can't help but wish it to be. This is all to say that When the Wind Forgets Your Name isn't in any way a bad album. It's just not 90s Built to Spill. And nothing ever will be ever again.