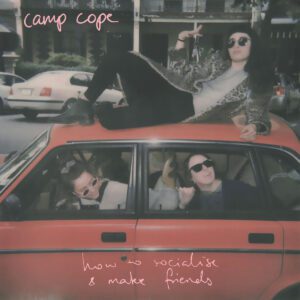 It goes without saying that I'm a big fan of Camp Cope's 2016 self-titled debut. It has all those qualities that made authentic mid-90s punk and indie rock so memorable, but also tossed in some of the better, personal aspects of some of the more meaningful first-wave, singer-songwriter emo. This, their sophomore outing, is equally affecting. It doesn't quite have the immediate grabbiness of the debut, but it's definitely a grower. Like most second albums, some of the rawer edges have been sanded down, but lead singer and songwriter, Georgia Maq, has added layers of road dust to her personal tales of struggle and finding her way in the world. You can hear the passion and sharp emotion that just kind of tumbles from her as her bandmates bend the rhythm section around her soaring lyricism.
I've never been to Australia, but it's certainly a life goal. Having recently seen Gang of Youths live and really loving these Camp Cope records, I don't see why I should put it off any longer. Thing is, it's really far away. Flying there would use up my entire Netflix queue and I'd still end up having to watch at least three old episodes of Myth Busters on the little airplane screen just to kill the time. The thing is, I'm not certain I'd need to go there after listening to this album. Maq's issues and her description of things could be happening in a small Jersey town just as much as they could in her native Melbourne. The universal theme of finding and keeping meaningful relationships, dealing with sexism in whatever industry you happen to work in (their opening track, "The Opener," being a perfect take down of the male-heavy indie rock scene) and just generally dealing with life's mysteries and miseries. But with panache!
No, seriously, there is a great working-class approach to Camp Cope's songs that is often missing from today's rock music. There don't seem to be any studio tricks, bleeps or bloops or trendy trap beats (or whatever the kids are into these days). The emotion isn't high-school emotion; it's real grown-up stuff, but still has that young-person vibe that isn't staid or settled. It's not that I, as a staid, settled person can really relate to the actual situations, but the romance of the emotion and the unflinching, heart-on-sleeveness of it all shines through. And melodies. They have those too. Hooks and melodies, in fact. It really is one of those albums that you could put on repeat, and even though it's only nine tracks long, you can sink into it and get something new and visceral from it on every spin.