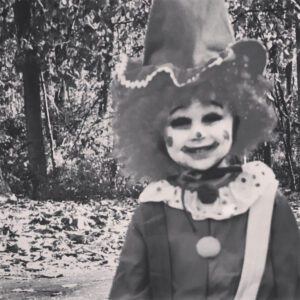 What an incredibly all over the place band. Like to the point that every time I put on this album I have to check to make sure the shuffle button isn't engaged. Or so it seems until you listen to Prince Daddy & The Hyena several times through and just kind of let the vibe wash over you. Because, people, this is a concept album! Yeah, no shit, I don't generally get those either. I had to search around to figure out what exactly the "concept" is, but apparently it's about the meaning of death? Which, I suppose, is the opposite of the meaning of life? Clever? Maybe not. But, fuck, it is an entertaining album.
Starting off the album is a sunny, little Beach Boys-like ditty called "Adore the Sun." And you're like, well this will be pleasant. Before it immediately downshifts into a Mike Krol, Jeff Rosenstock garage punk banger, "A Random Excercise in Impermanence (The Collector)." And that's when I was like, okaaaay. And I'm like can I take an entire record of this dude, Kory Gregory, seemingly singing through a nose full of snot? Even though the song itself is a ton of fun. Though it feels like he's going to stop and clear his throat and hock one. This Fucked Up voice doesn't really return much on the album, though. But it hints at some of the kind of raucous nature of things.
So "Jesus Fucking Christ" is a fun track name. And it swings. Then you hit song four and you're like who is this softie? Where's the dude spitting track two? Why am I now listening to a way better version of a James Iha solo album? Followed by an almost radio-friendly American Hi-Fi pop rock song, "El Dorado." And so they continue kind of oscillating between indie rock, pop punk, and even a, uh, more old-fashioned Beach Boys ballad of sorts in "Curly Q." Which is followed by "Keep up That Talk," which I thought was a Strokes cover when it first started. And wasn't not convinced it wasn't after listening to it all the way through. Which I'm actually not mad at.
So, yes, the songwriting might be little scattered — and even derivative at times — but the thing that all the tunes have in common is that they're fun and listenable. And have hooks galore. And it's this kind of pop sensibility that carries through the album that gives cohesion to what on the surface may not seem cohesive. I constantly complain about some records being way to samey-samey from track to track. So in the case of Prince Daddy & The Hyenas, the ability to write some variation into the tunes, while still making them compelling is impressive. Even if they do go full depressive for the final three songs. Ah, well. Probably just saving energy for the next go 'round.
Listen if you're into: Mike Krol | Jeff Rosenstock | Wavves