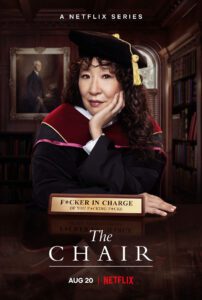 It's nice to see some literate adult programming on occasion. Not that I don't enjoy my Disney+ shows, or even some awesome puzzle box HBO show. But sometimes one craves a Michael Chabon-like literary fiction type show with no mysteries and no world-ending stakes. Aside from adult things like careers and interpersonal relationships. And academia, of course. With The Chair, the setup is simple, the characters realistic and the situation real world. And, sure, they explore some of the pitfalls of higher education, cancel culture, ageism and race, but the show is a character-driven dramedy at heart with enough levity to not make it feel like a movie of the week.
If you're a fan of Sandra Oh, you absolutely have to see this series. She brings a lot of season one of Killing Eve energy. That jittery, intelligent, but on-the-edge thing that she does so well. The amazing face acting that is so damn funny, but sometimes heartbreaking. The point is, she's great as the lead and really inhabits the role as the new chair of the English department at a small New England liberal arts college. The first woman and the first person of color to hold the position amongst the septuagenarian and octogenarian doddering white relics that make up the rest of the outmoded English department braintrust.
Thing is, as soon as she gets this chair — something which she's dreamed of having for years — things start to unravel. This is the part that clearly makes this a TV show and not real life. The seat is not even warm before her friend and fellow English professor, Bill (Jay Duplass), throws an ironic Nazi salute in class, which is captured by a student, posted to social media and everything goes to hell. The whole window of top-of-the-world to end-of-the-world just feels compressed in an unnatural way. Sure it works for what they know is going to be a mere six-episode season, but creates tension almost too fast out of the gate. Even before we really get to know our characters. It would have made things a little more natural had we had ten episodes, at least, and been able to give some air to the story.
Other than the whole Nazi thing, we have the play between the old-ass dinosaurs in the English department as it finally dawns on them that a classical education may no longer be what kids care about. And that some of the texts they've been teaching for decades may be seen in a different light by a more "woke" student body. We also get to see them struggle with modern technology, be shuttled into basement offices and generally be luddites and stiffs. Holland Taylor in particular gets all the good lines as the fiery professor and longest standing and only other tenured woman in the department. Scenes with her and Sandra Oh are worth the price of admission alone. Which, admittedly, is free with a Netflix subscription. So, as the new chair, Oh's character also has to deal with the dean, David Morse (who doesn't play "creepy" for the first time in a while), and his dose of reality that there needs to be a shakeup and some new blood brought into this dying institution. All while managing her own problematic daughter, her Nazi-saluting, heavy-drinking wreck of a colleague, Bill, and a campus that is ready to run her out on a rail for defending said friend. Who is clearly not a dude who loves Hitler, but seeing on social is believing.
We've always been told academia is super-political. And this series exposes that and uses it to drive the conflict. But it couches it in these special relationships that the chair cultivates for different reasons. Albeit none of them for what seems like personal gain. She's an earnest lover of her work, as are her co-workers, but they are trapped in this political environment that judges on metrics that are sometimes out of their control. I probably enjoyed this show more than I should have. It reminded me of Wonder Boys, of course, because of the surroundings, but it also had that warmth and humor to go along with a compassionate, but imperfect lead. I found the acting to be top-notch and the characters ones I liked hanging with for three hours over six episodes. Honestly, I would have liked more, as the season ended right when things were getting good, but hopefully they're able to bring everyone back for a second season so I can see if that Yeats class gets its due. Also, the will-they, won't-they with David Duchovny (who, in a nod to The Larry Sanders Show plays a weirdo version of himself) is killin' me.