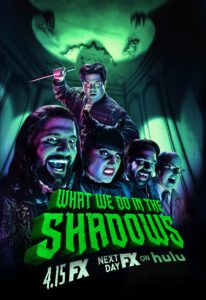 How do you take a show like What We Do In the Shadows, which is almost a one-joke concept, and continue its story into a second season? After all, the whole idea of ancient vampires living in modern-day Staten Island is a pretty funny idea. But once you get past the fish-out-of-water gags, is there anything left in the tank? It turns out that when you take a funny concept, have funny people act it out and kind of don't give a shit about convention, you can keep a show going and make it endlessly entertaining.
So, our vampire family's experiences this season go beyond just the inconvenience of living in a modern society as a vampire to explore the serious themes of Super Bowl parties, chain emails and the dangers of social media. Which are all kind of dumb ideas, but the way they're approached can be hysterical. Mostly because all of the vampires on the show are complete idiots. Idiots who have lived for centuries and you'd think would have gained knowledge and worldliness, but can't seem to navigate the simplest of things without the assistance of the only smart person on the show: their familiar, Guillermo (Harvey Guillén). They are essentially very, very old (and dangerous) children.
And this season Guillermo gets a lot of his own screen time after he discovers he is, in fact, a descendant of famous vampire killer, Van Helsing, in Season One. Guillermo is faced with all sorts of obstacles, including competition with a zombie Haley Joel Osment, a dubious fellow familiar-turned-vampire-celeb, those damn witches and living with his mom. Oh, also, his job sucks (no pun intended) and he feels unappreciated by said idiots. And Guillén kills it (again, no pun intended). He's funny as hell and is pitch perfect in his oscillating fear, anger and indignation.
The rest of the vampire crew gets their own adventures as well. Including the creeping threat of an evil, but cowed Simon the Devious (Nick Kroll) from season one, and scary-ass Jim the Vampire (Mark Hamill) who is looking for back rent owed him for the past 167 years. The whole show is incredibly absurd, but can be intensely funny. And, if I had to guess, that's what they're going for. The series is relatively low-budget, but there are occasional special effects that kind of take you by surprise. Especially when they generally involve one of our vampires doing something incredibly violent. But, ultimately, it's a story about quitting that shitty job you hate, wanting to be recognized for your contributions and just wanting to fit in. Or maybe it's just about watching a bunch of dummies bumble through an outer borough over-dressed for just about every occasion.