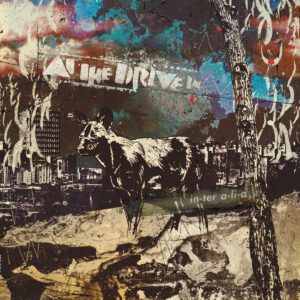 It's been a lifetime since At The Drive-In's last album — literally. A kid born at the release of Relationship of Command would be a senior in high school right now. It came out before 9-11, which is interesting for a band so seemingly driven by anger and aggression. Interesting in that it feels like a band that should have joined in the conversation around the Bush years — even if it was in their abstract way. I always thought the same about a similar-sounding, though way more political and a bit more groovy, band, Rage Against the Machine. And another of similar attitude and approach, but way more Swedish, The Refused (who also came back with an album after a 17-year hiatus in 2015). Instead we had to solider on through the 2000s with the secondary, spin-off versions of At The Drive-In in the relatively short-lived, watered-down version in Sparta, and the way-too-prog-trippy-for-most, The Mars Volta. Not to mention the more sensitive, less-bombastic former peers like …And You Will Know Us Like the Trail of Dead and Hot Water Music. And seeming offshoots of their mutations in bands like Coheed and Cambria.
So what does a band like this — after essentially seventeen years in the wilderness — have to offer us in 2017? Well, ballsy rock, for one. In this age of meandering, hazy folk rock and sniveling emo (which I happen to kind of like), this is chest-pounding, primitive, esoteric post-hardcore. At least that's what it appears to be given the nonsensical lyrics that are essentially allusions to death and violence and general aggression. It's like Tool — but with way less prison sex stuff. So, putting that out there, At The Drive-In separates itself from today's alternative rock. But the question is, does today's music really need this? Is it still relevant? Do we care anymore about rock 'n' roll as an outlet for our rage and complicated male feelings? Or would we rather listen to Father John Misty and Bon Iver until our blood coagulates in our arteries?
Look, I don't want every band from the late nineties and early two-thousands to make a comeback album. Some of us have moved on in both taste and spirit. But, honestly, some of us have not. We want that kinetic energy and poetic violence that is one part spoken-word art and one part mathematical banging. There is something to this angular noise that awakens the animalistic instinct in those of us attuned to that wavelength. And in that lives the heart of rock 'n' roll. Sorry, Huey, but it's true.