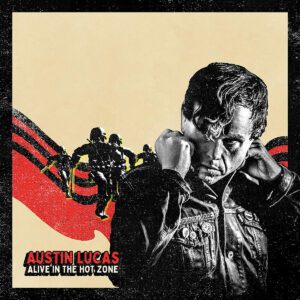 Oh, country music. Rock 'n' roll's fickle cousin. It's not a genre with which I'm particularly acquainted. But from all accounts, it's mostly about dogs, trucks, beer and the lady folk. And sometimes all four in a hot tub on a hot Saturday night in the South somewhere. Cuz partyin'. But, of course, that's probably more country music since the 80s or 90s. Prior to that, I imagine there was more heartache, prison and bein' broken. And much less boot scootin' and American exceptionalism.
And then there are dudes like Austin Lucas who borrow from more traditional country music pretty heavily in terms of feel. Which, when put side to side, sounds an awful lot like dudes like Tom Petty, Springsteen and any number of modern-day acolytes. It's that talk of small towns and gettin' out. Lots of driving and thinking. Lots of self-referential songs about life on the road and loneliness and whatnot. Sometimes with a twang. Sometimes not. But whereas alt-country doesn't really fit the genre, I've classified it as heartland rock. Because it feels like music that you'd play loudly in your Pontiac with the windows rolled down as you sped down a flat-ass highway over the flat-ass middle of our country. Even if that place, in the case of Bruce, is New Jersey. And even in the case of Alive in the Hot Zone, it's an album about the times we're living in, its politics and the isolating factor of being in a world in general ruin.
Of course Austin Lucas isn't from the Garden State. He's an Indiana boy through and through. You know, the land of one Mr. John Cougar Mellencamp. And while there are tinges of those roots rock beats, Lucas is really more of a troubadour than that. His music just isn't as kitschy. Though the music is particularly American. The man says the word "things" like "thangs." So there's that. He's like a vaguely emo version of a midwestern country rock singer-songwriter. Imagine a Loretta Lynn in a leather jacket and a much less specific story. And a first song, "Already Dead," that sounds suspiciously like Mr. Hipster fave, Centro-Matic. Doing a little digging, it seems Will Johnson, who essentially is Centro-Matic, co-produced Lucas' previous album, Immortal Americans. So that makes a ton of sense.
Lucas is not a young man. He's a dude with a point of view (see the video for "Already Dead" below). And he's a dude with tattoos and some miles on him. He also looks bizarrely like a younger Gary Busey, which is evident if you watch the music video for another song off this album called "Drive." Not a comparison most would take as a compliment, but there was a time when a pre-crazy Busey played Buddy Holly in The Buddy Holly Story. Which I assume is an artist Lucas would respect a whole lot. So, transitive property tells me this is, in fact, a compliment. Also, Alive in the Hot Zone is a pretty decent record. Which I suppose is why you came here to begin with.