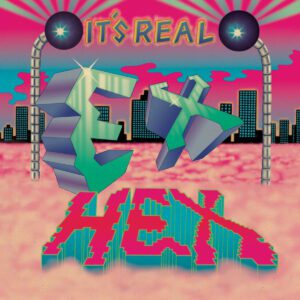 I don't know much about Pat Benatar other than the fact she was a style icon. And played some 80s rock tunes that stylized power chords and put some ballz into the genre. It seems, based on my limited knowledge, that Ex Hex is looking to recreate this Benatarmania thing.
On their debut album, Rips, this supergroup trio of sorts laid out their rock 'n' roll plan. It's that same kind of retro arena sound that continues on It's Real. You know the stuff. Pretty straight forward song structure with guitar solos, a bunch of distortion, hooks galore and an approach that could fit in the 70s, 80s or 2019. But somehow not in the 90s or early aughts. Because that shit wasn't cool then for some reason.
But with all these rock revivalists bringing back this swaggy sound, among them White Reaper and Sheer Mag, it's a wonder that there aren't more and more bands hitting local garages with a notebook of power chords in hand. Or maybe there are? Which would be a super-refreshing thought. If we didn't all know that each and every technological advance in recording just encourages kids to sit in their bedrooms on laptops. Ugh, my life.
Anyhow, back to It's Real. It's a solid album that really hits hard on the retro thing like their first record, but even incorporates some tunes that sound remarkably like Liz Phair's "Supernova." There's more midtempo stuff here that brings in some nice harmonies and solo work. But, ultimately, it's a guitar rock album that goes heavy on the reverb and in its ten tracks doesn't break much new ground. But the nostalgia is super-heavy and in itself will be an attractive attribute for those of us who remember this music the first time 'round. It's a fun time machine that can unstick you in time and who doesn't need some escapism in today's fraught environment?