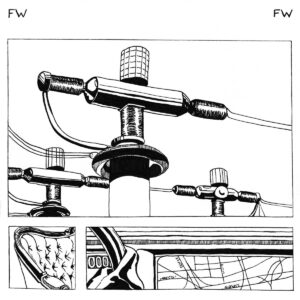 Hailing from Hipster West HQ, Montclair, NJ, the Forth Wanderers follow in the rich tradition of local bands Pinegrove and, uh, Duncan Sheik, well… Ezra Koenig from Vampire Weekend is from Glen Ridge, which may as well be a small, more homogenous outgrowth of Montclair. So, yes, Montclair was the town where folks from the Upper West Side and Park Slope and increasingly Williamsburg move after having kids, but those original pioneers' kids are now growing up to start cool bands like the Forth Wanderers. So Brooklyn's loss is our gain. I mean, in some cases their headaches are now our headaches, but that's a different post.
The first track on this album, "Nevermine," immediately brings to mind early Pixies, though that can probably be said of about 100% of indie bands' first swipe at making music. It's almost as if aping the Pixies at some level is a requirement, and without that hat tip you're not even let in the door. It's the blueprint, and then you can build out your personality on that framework. The Forth Wanderers' walls and decor look an awful lot like The Breeders, combining the languid guitar work, start-stop aesthetic and then tumbling, chiming choruses over female vocals. Lead singer, Ava Trilling, doesn't employ much in the way of vocal strain or sharp, staccato delivery that I've been used to in my modern female-lead bands like Camp Cope or Bully, but kind of flows through the songs in a lazy lilt that is rounded and sometimes a little mush-mouthed. I can't tell in some cases if they're doubling her voice or if one of the guys in the band is singing backup in a high register, but it certainly has a fleshed out sound that doesn't rely solely on the power of her voice. The lyrics are of your typical love-lorn pop punk, high school-ish relationship variety, though written form the female perspective and delivered in a much less goofy way.
I'm a little torn about the album, honestly. My first turn through it, I was pretty psyched. It reminded me of things I like, but did them from what seemed like a fresh angle. Subsequent listens made me less excited, as the delivery became kind of samey-samey from track to track. It's like those doo-wop songs from the '50s. You hear one and you're like, "man, this is pretty good." And then you hear another one and you're like, "man, it's still decent, but sounds a lot like the first one." And then by your twelfth one you start to realize they all kind of sound the same and the excellent feeling you had about the first one kind of dulls as you hear it twelve times in a row. And so goes this album. Taken individually the songs are decent, but as a whole they kind of meld into one another and leave you begging for the band to break out of the midtempo thing, or for Trilling's vocals to break from their pacing or lounge-level volume. Just something to add some grit or some bite or something a little more angry and a little less longing. Granted, that's just a taste thing on my part and not something I would ever expect a band to do if it's not their jam. That all said, this is an album that sounds remarkably good in headphones — and actually plays better in that more intimate setting than it does coming out of speakers in a car or living room. I think maybe with a little more life experience and perhaps a little more adversity their next album can hit some higher highs and bring the goods to the people of Jersey.