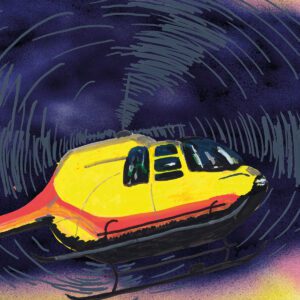 I don't typically review two albums from a relatively minor band like this close together. But it seems only "minor" bands like Canada's Kiwi Jr. release an album a year. After all this ain't like Dinosaur Jr. But after 2021's Cooler Returns turned my head with its Pavement-y slacker madness, I couldn't help but throw this one on and type stuff about it. And while it definitely maintains some of that similar personality, Chopper definitely leans into quite a bit more layering and keys and in a weird way tries to be a little more… cool?
I'm trying to figure out a binary here, but let's call Chopper Kiwi Jr.'s Do the Collapse. You know the one. Guided by Voices, lo-fi champion of the people, go out and get Ric Ocasek to [over]produce their major-label, TVT debut… And, oof, people hate it. This isn't exactly how Robert Pollard tells the story, of course, which was made clear to an audience when we saw them just this year. But you wonder whose choice it was on this album to bring in fellow Canadian indie-rocker Dan Boeckner from Wolf Parade for his first attempt at producing. Because he definitely gives this record a different, more surreal bent that at times doesn't sound entirely unlike the more dramatic and outer-spacey noise of his main gig, his multiple side gigs, and even his latest 2022 endeavor as a session and touring guy with Arcade Fire.
Which, if you've ever read a single word on this site, is generally not a plus for me. I don't like mixing my chocolate with my space dust. Raw, lo-fi bands are good to me for a reason. Whether they're lo-fi indie, noisy noise rock or whatever. There's something about sloppy, unadorned instrumentation that makes the heart race. Adding in bleeps and bloops, echo and 80's keyboards isn't additive in all instances. Even when you take a track from Chopper like "Night Vision," which could have been ripped directly from a mid-career Strokes album — if it were produced by a Canadian. Seriously, it almost sounds like a cover with some Stranger Things effects pasted in the background. That's followed by a tune entitled "The Extra Sees the Film," which is a song about LA (or at least mentions it prominently). Which automatically makes me a sucker for it, even if it didn't have this great, nostalgic hooky cascading synth and smart lyrics.
So, when it comes to Kiwi Jr., I might actually be okay with this turn. Because I haven't invested GBV hours into them. And this doesn't feel like such a departure, more than it is an enhancement. Which, I suppose, is what they were trying to do. And, honestly, we don't have Pavement anymore. Sammy was really never a thing beyond the one album. And Parquet Courts apparently do like clubby dance trash now? So, for the time being, we have a fun, boppy album from Kiwi Jr. — an upgrade on just about everything out there.