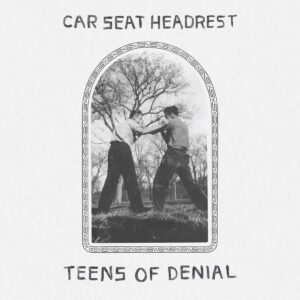 I know we don't really do desert island albums since the advent of the iPod, but let's just pretend for a sec that I could only bring 10 albums with me when I have somehow predetermined that I'm going to shipwreck on a deserted island in the middle of nowhere. I'd obviously bring In the Aeroplane Over the Sea, but beyond that and maybe one of two Pavement albums and The Monitor the picture becomes kind of fuzzy. But — and I know this is probably just me throwing a little of-the-moment-ism — this Car Seat Headrest album has made a totally surprising entry into that conversation. Yes, a band called f'ing Car Seat Headrest. It's not to say that I wasn't familiar with the band, having put their last one, Teens of Style, on my best of the year list for 2015, but this one is just incredible. It's like they (or he, really) took everything indie rock rolling around in my head and mashed it into one album full of anthemic and truly melodic rock songs.
Does he borrow from genres that came before? You bet your ass he does. Are they genres and bands I love? Hell yes. Track 2, "Vincent," is an amped-up 7:45-minute early Pavement song, complete with Malkmusian yelps. It's a long-ass song that doesn't feel even half that length. Track three, "Destroyed by Hippie Powers," is a rollicking Built to Spill song built on awesomeness. Track four, "Drugs with Friends," is the cleverest song Beck hasn't written in years. If I heard it out of context I would have literally thought it was the Beck track we all deserved after "Loser" and wold have run to the record store (if there was still such a thing) asking for the new Beck album the same way I did after hearing Weezer's "Sweater Song" on KROQ and somehow thinking it was a new Pixies single. But my favorite track of the moment, and one that I can't stop listening to is "Drunk Drivers / Killer Whales." I can't even explain what I like about it so much other than the "drop," which, in indie rock, is when the song kind of shifts into another gear and takes the expected verse/chorus/verse of the front end of the song and just kind of hits you over the head with it. That's the shift, for lack of a better term, from those pesky drunk drivers to those kick-ass killer whales. To continue with my terrible comparisons, it's like a Spoon song that you think is going to be a Spoon song all the way through, but then the turbo just kicks in.
I encourage you to find the album on your favorite streaming/digital service or go buy the thing at that aforementioned imaginary record store or online retailer and you won't regret it. Look for this album on my "best of 2016" list, but for now just enjoy "Drunk Drivers / Killer Whales" below!