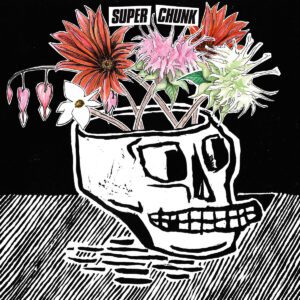 It feels like Superchunk has been around my entire adult life. And that's mostly because they have been. I discovered them in 1993 with the release of On the Mouth, about two years after their self-title debut came out, and they've formed a reliable backbone to my music listening ever since. I never labeled them my "favorite" band, but they've put out consistent, reliably rockin' music for over 25 years that hasn't compromised or disappointed. I do remember always listing them in the group of bands I listen to when people asked, "so what do you listen to?" They just have an integrity and brand that has remained untarnished all of these years and the band itself remains the poster child for indie rock success.
What a Time to Be Alive could have been a greatest hits type of album at this point in their long careers, rehashing the usual tropes of an aging band in the twilight of rock music, but instead the band comes back re-energized and clearly looking to get some things off their chests. While it's not as raw as some of their earlier records, they push the energy level and put out what would be the equivalent of several club bangers on this one, calling back to their hardcore roots and not just coming with a bunch of mid-tempo, "pretty" songs. They still crank the guitars and there are tons of cymbal crashes and even some shouted-ish choruses! It's like hardcore for the parent set, I suppose. Mac McCaughan's voice has always been one of the more polarizing factors in the band. I've played Superchunk for people in the past and the reactions are generally "Hey, is this some Rush song I've never heard?" or "That chick has a really weird voice." or "Oh my god, they need to fire that singer; I can't take it." And, yes, his pinched Geddy Lee-ish singing can sometimes make you wonder what the band would have been like had McCaughan had a slightly more traditional-sounding "rock 'n' roll" voice. But then it wouldn't be Superchunk.
Superchunk has mostly made their way in the world writing songs about relationships and the music industry and your usual indie rock fare. This one has been labeled a "political" album, though there's not necessarily a point of view or an outward attack on any one person, party or affiliation. I suppose it's more an air of protest. But I feel like perhaps there's a need to call this album political to drape it in some sort of timeliness or narrative that it doesn't really embody. What music press that is left needs to ask the question, "Why now, after a 5-year absence? Is it the times we're living in; the president we're living under?" I mean, the title is indicative of that, but reading through the lyrics, they're as obtuse and, frankly, sparse as they've ever been. The only song that even mentions anything remotely political is "Reagan Youth," and that hardly applies to today's whatever-it-is party of the president. Perhaps it's a combo of the need for a reason for this album, married to the urgency with which the music is performed. Pair that with the age of the group and their place in the Gen X pantheon of free musical thinkers and the aforementioned respect they garner from doing their music on their terms. There's no label telling them that they should capitalize on the world of shit we've inherited, so what other reason would they have to upend their relatively comfortable lives to record and presumably tour at this stage? But, the thing is, there doesn't always have to be a reason to rock and roll. Anything can be an inspiration. And, yes, the history of the genre is littered with songs about protest and anger, but this one comes across more as a "you're not gonna push me around" statement. And it's general enough to be applied in all instances, not just the ones where we're sometimes embarrassed by our leadership.