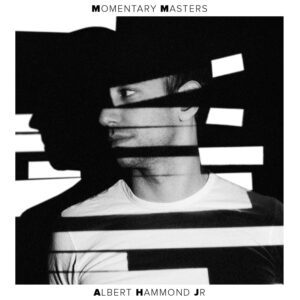 Once the pinnacle of hipster, this former Stroke has slipped mercilessly into the background. But that mercy is not ours, it's his. To get out from under the shadow of the "it" band in any guise, even 15 years later, has to be a feat greater than most others. Like an aging supermodel who once graced the covers of global magazines, who has now struck a deal with Target to sell millions of dollars worth of clam digger pants to middle aged moms who still want to be stylish, Hammond may no longer have the spotlight, but it doesn't mean his second career is any less impressive.
That said, these songs do sound an awful lot like a charged up version of The Strokes. But honestly, they're more interesting in their approach. There are echoes of fellow post-punk revival compatriots Interpol and Franz Ferdinand and original influences like The Cars, Joy Division and he even does a Dylan cover. All this despite him saying recently in a podcast that his biggest influence is and always has been Guided By Voices. But, yes, it still sounds like his old band. And for me, a person who likes to don his skinny tie and his short leather jacket and maybe some sort of European boot and smoke some dust and use that TIGI Bed Head stuff that used to be popular in my greasy-ass hair, there is nothing wrong with advancing a good thing — even if some say its time has passed. I mean there are tons of folks out there who probably think rock's time has passed, but they're the same twenty-somethings who don't get what Hammond is going for anyway.
I'm hoping as Hammond and Casablancas go out and explore their own stuff and sow their oats (so to speak) and Albert delves into his SoCal roots and kicks some habits and exorcises some demons — hopefully getting them on wax — and that they all come back together for the next band album and apply some of the more eccentric guitar licks and looseness he shows on this album and really bring that band back to life.