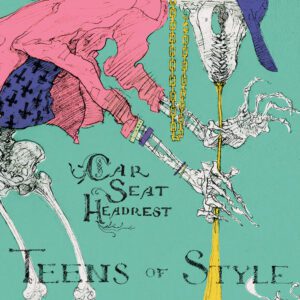 The first time I listened to this one I'm not sure I was in the right frame of mind. I heard the initial blast of lo-fi auditory fuzz and almost immediately discounted it as another in a long line of recent drowned-in-sound albums that for some reason insist on covering what would or might otherwise be pretty cool albums with a layer of echo and hiss so deep that it all but obliterates the singer's voice and any sense of melody.
But then I gave this one a second listen. The second track, "The Drum," oddly starts off with the same exact riff as the Foo Fighters song, "My Hero," but then launches into a pretty rousing version of the best Guided By Voices song that Bob Pollard never wrote. And somehow the murk and fuzz worked for the song instead of against it, as it ends up sounding not like a Foo Fighters song or a latter-day GBV tune, but something entirely organic and personal. That's not to say there aren't heavy influences all over this thing. I mean the guy was in his teens when he wrote this thing, so how could you not lean on that which came before? It certainly reminds me of a bunch of the mid-nineties stuff I really liked, but all of the things that come to mind are completely random. Enon? No, that's not right at all. How about a mash up of Belle & Sebastian, Cults and something entirely more rocking? Nope, totally wrong.
So how can I not be able to describe an album that I've really grown to admire and enjoy? Perhaps that's the best part of it. It feels at once familiar and right in my wheelhouse, but also fresh and exciting in a way that makes me pretty psyched for his new output, which is apparently coming in 2016. He being twenty-something-year-old Virginia native, Will Toledo, who actually recorded most of the original versions of these songs between 2010 and 2012. So I suppose this album serves as a sort of primer, compiling that material in a re-recorded package for Matador. No matter, though, it's all new to me. And no matter when it was recorded, it's one of my favorites of 2015, and it's all good.