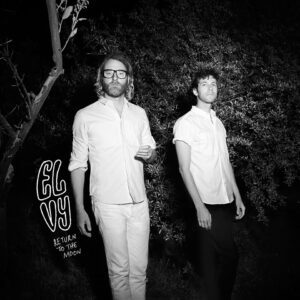 From the minds of two different but equally wonderful in their own way bands, The National, Menomena and Ramona Falls comes the new Julian Casablancas solo album! Wait, that's not right. But isn't it? That kind of middling post-punk bassline-heavy stuff that refuses to be interested in its own chutzpah. A tossed off (or seemingly / intentionally so) that refuses to act as if any effort went into it. We just walked into the studio, picked up what we found there and this is what came of it. The funny thing is I revisited The The's Infected recently and, wouldn't you know it, there's track two, "I'm the Man to Be," doing its best pervy The The impression, with its baritone, sing-songy, talk singing. It ultimately sounds like what you'd expect a National and Menomena/Ramona Falls album would sound like, but somehow more subdued. Less interesting. Less everything.
The oddest part about the album is the storytelling or vaguely rock-opera-ish element that imagines some Minutemen through-line that is supposedly a thing about Mike Watt (Michael) and D. Boone (Didi) that makes just about no sense. Granted, most rock operas don't. Throwing that idea away, the lyrics are sometimes distracting either in their specificity around bands and places, so repetitive as to be annoying and, in some cases, oddly gross for what seems like no reason. Take the aforementioned "I'm the Man to Be's" line:
I'm peaceful cause my dick's in sunlight
Held up by kites
Cause I'm the man to be
Now that is one confusing and somewhat braggy line either about his dick or his kite. You decide. The one positive thing I can say is that I like it better than I've liked the last couple of National albums, as Brent Knopf seems to bring, or maybe just inspire, a little levity in the usually depressing-as-hell Berninger. The National, unlike a band like The Smiths, always likes a little side of sad with their depression and at almost all times makes it seems like they want to drag you down into that hole with them. It's good to see, at the very least, that the frontman can lighten up a little and despite talking about his dick and his "fuck-me shirt" bring a little bit of fun to the party. But just a little.