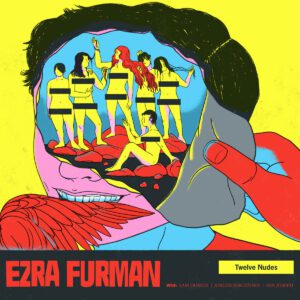 Everyone remembers the Violent Femmes. At least anyone who was a fetus prior to about 1975 or so. They were this weirdo band who felt raw and just a little bit dangerous; a squawking band of misfits. Their legacy, though zhuzhed up a bit, has been extended through garage punk troubadours like Jay Reatard and Mike Krol. Dudes who feel just this side of out of control. Ezra Furman takes that tradition, androgenizes it a bit, and goes full bore into the pinned levels of diy punk transcendence.
Though Furman's approach brings an odd prettiness (for lack of a better term) to his punk energy. He adds those touches of Bowie in his choruses before shredding his voice that add a lovely dynamism to his songs. Otherwise he propels his music with those tinny drums, snaking basslines and wall of distorted guitar that typify the genre. He even adds in some heavy-as-hell 70s sounding hard rock bangers, led by his remarkably clear, but cigarette-laden operatic croak. And goddam I'm a sucker for it.
Thematically, Furman does talk about his gender fluidity and/or queerness and how that's affected his life or how society has approached it, but it still feels universal in its message. The 50s prom song, "I Wanna Be Your Girlfriend," is an obvious ode to his sexuality, but it's so weirdly traditional that it could have been Peggy Lee singing it and not raise an eyebrow. Well, ok, one eyebrow.
The point is that Furman has written a very catchy, cathartic and entertaining album. He performs like a person with a story to tell, and tell it loudly. It projects reckless abandon, but at the same time is an incredibly savvy record that creates a persona that is both confusing and energizing. And I imagine that's just how Ezra wants it.