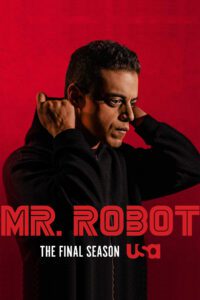 This show, Mr. Robot, made a huge splash after its first season. As much as one can tell in this fractured media landscape in which we live. I mean, it's not as though the kids and me were talking about it at the water cooler, but it was definitely a podcast and critical darling. And then it seemed to kind of fall off the map. And this, its fourth and final season, felt like an afterthought as new streaming services and a tidal wave of new shows flooded our television shores.
The thing is, I never gave up on it. It never quite captured the differentness and propulsiveness of its first season, but the show remained weird and unpredictable in a way that many others didn't. It may have been a victim of its own complexity and whatever it's called when something folds in on itself or eats its own tail, but following the narrative was only part of the fun of the series. And, honestly, I can't tell whether or not it ultimately makes sense, but the journey itself was fun as hell.
Season four finds our protagonist, Eliot (Rami Malek), prepping for his final hack that will put everything in seasons one through three right. Or so he thinks. Everyone is paranoid, the Dark Army is closing in and Sam Esmail has twelve episodes to bring all of our characters together (or kill them) and sum up three seasons of craziness. It's a tall order, especially when he has plenty of experimentation and coolness that he wants to try out before we get the ending we have come to expect.
And for a final season, Esmail does step out and present some really awesome episodes of television that didn't need to happen to get us to that conclusion. That included a mainly dialogue-free episode. One that took place in two rooms and was presented as stage play more than an episode of TV. And then there's a road trip bottle episode with Elliot's sister, Darla (Carly Chaikin), and special FBI friend, Dom (Grace Gummer), that is terrific. There's even an episode that takes place away from NYC and smacks of the great "Pine Barrens" episode from The Sopranos. Mostly because it takes place with our characters wandering around lost in the woods. In other words, regardless of whether you're into the plot, or are even able to follow it, it's a great season of television craft.
The thing that has been impressive about the show — especially in this final season — is that all of our main characters (and some that they must have realized we care about) get their arc. Characters who, in prior seasons, had foggy motivations have their backstories what makes them tick is revealed. Even the head of the Dark Army, Whiterose (BD Wong), gets her story fleshed out. People who we've seen as villains get some redemption and, of course, we get some resolution for Elliot after four seasons of absolute torture. It's not clear if the writers pivoted away from the Elliot storyline more than in previous seasons because of Malek's busy schedule, or if it was intentional, but I think more of these breaks in previous seasons would have been welcomed. After all, Elliot is a pretty one-note character (purposefully) and his constant moping and skulking can be tiring. And some of the other actors are — quite frankly — stronger than him acting-wise. Or at least their characters have some dynamism that's missing from his. A hot take I know, but I wondered aloud several times during this season if Malek is, in fact, the amazing actor he's purported to be. Or if it's just the mumbly spaciness of Elliot.
So, the ending. That's what people care about. After all, shows like Lost seem to have, uh, lost the audience they built up with what fans thought was a shit ending. I didn't hate it as much as others, but I see their point. In this case, I really hated the basis of Elliot's trauma (which we didn't know about previously). When they reveal it, I actually said "No!" out loud. I thought the whole thing was a head fake based on what comes directly after it, but, alas, it was what it was. It just felt too pedestrian and like a bit of a cop out. That said, the reveal comes half way through the season and we need to build to the resolve in the second half. That journey is way better than the reveal itself, so I forgave it (almost). I'm not going to say getting to the conclusion was easy — or always super-clear — but when it finally lands, it's a satisfying and established twist that honors the series and feels just about right.
This is a curious case, given its complexity and the two-year break between seasons three and four, if perhaps a binge watch and not the week-to-week viewing that I had would give a second life to this amazing series. It is definitely one of my favorite shows of all time and I will miss its visual style, its characters and the intricate way Esmail put things together without making everything a puzzle. Its mix of psychology, technology and action is like the perfect trifecta. Maybe he'll revisit it some day. Maybe we can have a Dom spinoff, which I'd totally be down with if the insane Bobby Cannavale character is part of it. C'mon, man, let's do it!