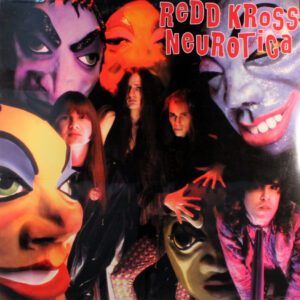 Man how I loved this album back in 1987 when it came out. It was fresh and fun and, best of all, it rocked. It's been a few years, but listening to it again now, the shit still rocks. In its glammed-up, heavy-metal, punk-pop kind of way, it is at once an embrace of the rock and roll culture of the time and a complete rejection of the decadence and idiocy that it engendered. And, did I mention, that this album still sounds really damn good? There are definite tinges of Guns 'n Roses in there and it's clear that Jane's Addiction took some queues from these guys. But the most surprising thing of all is the obvious influence on Nirvana. Listening to the song "Janus, Jeannie and George Harrison," along with "What They Say," and you might as well be listening to b-sides from Nevermind.
What I thought was going to be a nostalgic trip down memory lane became a really enjoyable listening experience and shock that I was cool enough way back then to buy this tape most likely from the Tower Records in Westwood. I seem to recall being a little squeamish at the way these guys looked (somewhere between
Urge Overkill
and
Enuff Z'nuff
) and the weirdo album cover, but was won over by what we now know as swag. There's a confidence and an incredible pop sensibility to their music, which even includes guitar solos and also a snarky edge that hadn't yet tipped into the darkness that eventually became grunge. They really are the missing link between the glibness of the 1980s and the heaviness and self-flagellation that overcame the 1990s. They didn't think they were "dumb" (yes, that's a Nirvana reference), but still thought they were the cool kids because they didn't walk the straight and narrow of their brethren. Seriously, though, this thing is pretty damn rad.