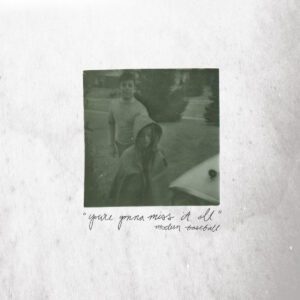 Welcome to the goofier side of pop punk. Not that the genre isn't inherently goofy, but you have your emo-ish pop punk that deals with the trials and tabulations of young life, or days filled with drowning said lingering issues of a formerly young life now soaked in alcohol. Then there's Modern Baseball, which mixes the more whimsical side of blink-182 with the less serious moments of a Lit. Sorry, I swore I'd never bring that band up in any context, but here I am in 2016 bringing up a novelty pop punk band who had one minor radio hit in 1999. The point is, this isn't heart-breaking stuff, though because this is pop music, there is talk of heartbreak — but like dating disappointments, not long-term desolation.
The music, and especially the singing, remind me of the band
Why?
. The cadence is not unlike their songs, almost talk-singing at times in a voice that somehow emulates
They Might Be Giants
or one of your more typical prototypical need bands. Need bands. Right, that's the template:
Weezer
. Goofy and light, but poppy and catchy in a way that connects. Now, about that name. Is it an homage to their emo predecessors, 
American Football
? Or is it just a sucky name that the group picked as a stand-in and then just never changed because they had it on a poster at one of their college house parties and it just seemed like too much of a pain in the ass to change once they got a little word-of-mouth? Whatever the case, these guys, with their potty mouths and accessible themes seem to be doing Rivers Cuomo's job, but without all the algorithms that make things less fun than they should be.