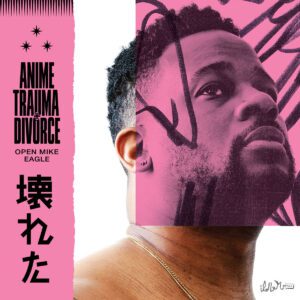 I've been doing very few hip hop reviews of late. It's not as if I'm not exposed to every DaBaby and Lil Baby and Dope Baby Fuckface by Hipster Jr., but the stuff just doesn't speak to me. And, yes, I know if I searched hard enough, I'd find something that struck me as entertaining. Or maybe I've just moved on. So it's with a happy heart that I bring back a new Open Mike Eagle album. Even if the depressing title, Anime, Trauma and Divorce, isn't the most uplifting-sounding thing.
And, no, it's not a record Hipster Jr. would ever touch. It's for old-heads like me. Old-ass white dudes like me. After all, this ain't that trap or drill or whatever the kidz listen to these days. It's what he terms "art rap," which is like semi-jokey, poetry-like stuff. It verges on nerdy. It's self-deprecating and relatively mellow. This Vox interview tells me that Mike loves and was/is inspired by They Might Be Giants. I mean, that shit might even be too geeky for me. It's like the new-age, coffee house version of a Childish Gambino album. Or the 2020 update of a Digable Planets groove. But like less hippie and more, uh, divorce-y. And darkly humorous.
There's just something about his laid-back flow that grabs me. It really does adhere more to a spoken word poetic thing than what passes for rapping these days. His words are clear and his lyrical wordplay shines through. The mumble thing just wouldn't play here. As the whole point is understanding what he's laying down. Because even though he classifies his style as "art," that doesn't mean it takes on the typical cold aesthetic of other "art" projects like a Talking Heads or The Velvet Underground. His approach is much more grounded and less heady and divorced (sorry) from the artist himself. Shit, the dude raps about how a Black Mirror episode ruined his marriage. It's funny, it's smart and it's way different than most of what's out there. Unless my 16-year-old DJ has just been holding out on me.