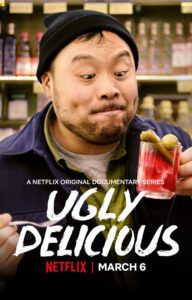 There is an overwhelming amount of food TV out there. Everything from competitions, to how-tos, to things like Ugly Delicious, which are technically food documentaries. Food documentaries in the vein of Bourdain series like No Reservations and Parts Unknown. Really, they're part travelogue, part sociological education programming just put through the lens of cuisine. It seems pretty evident that David Chang has taken on the mantle of our post-Bourdain world and clearly feels the weight of the crown.
Chang starts season two of his incredibly addictive travel/food series on a very personal note. Documenting his journey as a first-time father-to-be, he talks to his chef friends, asking them how they balance the insane chef life with that of their family. It's something that those of us with desk jobs don't necessarily appreciate, but opening and running restaurants is almost a 24-7 job. He expresses his insecurity about what he feels will be his skills as a father, doubting his fitness for the gig. He talks to his own mother about how she cooked for his family and what he plans to cook for his future child. It's all very revealing about the man, the industry and the way food connects generations. It's really good television.
The season is inexplicably only four episodes long. Which is super-sad for those of us who were just getting into it. And even in the next three episodes I felt like I learned a ton about food, geography, culture and history. It's pretty amazing when you use food as a map for human migration, trade and a million other things just how much it all kind of falls together. And that learning all comes into play while seeing cool parts of the world, enjoying other people enjoying awesome grub and, in this series, laughing a lot.
While David is certainly the host of the show, he employs others on some of the travels. Like his friend, David Choe, who is one of the funniest and most entertaining dudes around. An artist by trade, he is awesome in front of the camera. Profane and clearly down for whatever, he is Chang's id. He's all the base instincts that Chang most likely would love to let out, but can't because other adult human beings rely on him for employ and, more recently, for parental guidance. Imagine culinary Jackass.
Otherwise, we get to follow Chang and some other cohorts around the U.S. and around the world. Sometimes he sits with celebrities like Aziz Ansari, Padma Lakshmi and famous chefs like Floyd Cardoz (late of Tabla, RIP) for the episode entitled "Don't Call It Curry." And even the occasional actor-type like Danny McBride and Nick Kroll. A celebrity chef and his celebrity friends. A cocky dude (like most chefs) who seems humbled by this experience. The enormity of the world in which he travels. The sacrifice he sees others in his industry making to bring their food to others. The long hours, the hard work. The dedication.
The interesting part is seeing a successful restauranteur like Chang, with his Momofuku empire, experience and learn new things in every episode. From the history of the spice trade from India and tasting raw black pepper in a courtyard with a barefooted purveyor to the insane dry-aging of beef. The craziness of vertical meat cooking and its origins across the world to the joys and popularity of pickle juice in Turkey. He interviews folks who wouldn't necessarily have a voice. Originators of global cuisine. Minorities and women in an industry that has been less than kind or inviting to them. It's a show of revelations and discovery that is well produced, well edited and makes me want to go out and eat every cuisine I can get my hands on — even when there are brains or balls involved. Ok, maybe not, but it makes me want to travel not for the sites, but for the food. Let's hope for more episodes soon.