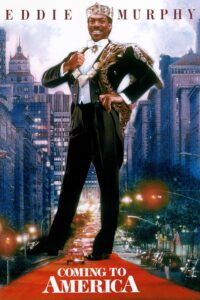 No matter which way you slice it, this thing is a classic. The plot is weak and formulaic. The direction is lame and amateurish. The acting is one step above community theater in like Schenectady, NY. And some of the sets look like they were built by that same town's eighth grade class (no offense to you kids, whoever you are.) But I'm not here to point out flaws, I'm here to pay tribute to one of the most quotable and recognizable movies of the feel good fairytale 80s genre.
The first thing that tips you off to the fact this is a fairytale is the fact they're trying to pass Eddie Murphy off as a 21 year old. I mean it's not an Ian Ziering situation here, but to think of him with that mustache as being a kid is a real stretch. Again, this isn't the point. After all, fairytales are allowed to be unrealistic. The other interesting thing here is the fact that this is also a subgenre or the fairytale genre–the urban fairytale. Which, of course, in English means that most, if not all, of the characters are black. But unlike later films of this subgenre (all of which packed their soundtracks with hip hop to sell a few tickets) this film had universal appeal. I guess that's the Hollywood magic of Eddie Murphy.
Things didn't work out as well for Arsenio, I guess. Removing the cussing and a brief spat of mild nudity in the beginning of the movie could actually make this a decent film for kids. The message is good, and children would probably get a laugh out of Arsenio bugging his eyes out in almost every scene.
If you don't know the plot to this one, you've obviously been hiding in the mountains of Afghanistan plotting the destruction of The Evil America. The basic gist is that Murphy is the prince of some imaginary country in Africa. On his 21st birthday he is introduced to the woman who is to be his bride. He says "f that," and heads off to America with his faithful servant, Arsenio Hall, to find a real woman. That's literally it. The usual wackiness ensues and Arsenio and Murphy play a bunch of different characters and meet many more strange ones. Along the way they spout some of the most memorable lines in bad 80's comedy history. I swear I drop one at least once a month. I know that's a sad commentary on my life, but "It's in da hole!" is just such a classic.
The movie itself is a paint-by-numbers interwoven with comic genius. Murphy is completely disarming and innocent. He isn't Brando or anything, but his smirking and faux British accent get him from gag to gag. It's sad that this kind of flick will never again brighten our Sunday afternoons. Murphy has moved on to Daddy Day Care and the world has moved on to dreary melodrama and poop jokes.