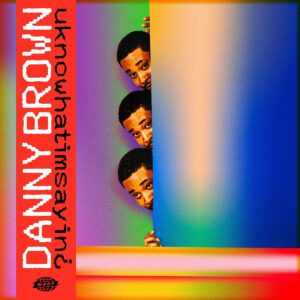 Danny Brown is like 2010's version of Funkdoobiest mixed with like Ol' Dirty Bastard on acid. I was enamored with him when I first heard his insane "Stoned is the way of the walk" voice on Mr. Muthafuckin eXquire's "The Last Huzzah!" I was like, who the fuck is this dude!? And then I looked for him everywhere and anywhere. He became like my favorite two verses and a cloud of dust rapper. A guest guy who could brighten up any song. Bringing the wackiness and maybe a little bit of shock value. Crazy. That's how he seemed.
And then came his debut album (well, to me, at least), XXX. And I dug it. It was not a mellow hang. He is not a mellow dude. He is on edge. He's an edgy guy. He seems unhappy. He seems both filled with life and vaguely suicidal. You know, an artist. But then came Old, which was an album that confused the hell out of me at first. Because it seems Danny Brown also has an adult voice that he can use. It's cool, but it's not the insane Danny Brown I knew. And then the second half of the album runs and you're like, "oh yeah, this guy loooooves drugs."
I've come back to appreciate Old, but kind of skipped his next album. I got shruggy about rap for a while. I'm still in the middle of that. Especially while being forced to go to Lil Pump concerts with Hipster Jr. Artists who owe a big debt to that molly rap that makes up the B side of Old. They're just doing a pale version of it.
But with the New Year upon me, I looked at back at the 2019 albums I'd earmarked to listen to in that calendar year and saw Danny peeking out from his awful, awful album cover and thought, "Eh, why not?" No, seriously, that is one ugly cover.
And, shit, the thing is good. He is not like anyone else. You hear him and you know it's Danny Brown (as long as he's using his "high" voice). And here producer Q-Tip seems to have reined in some his more outrageous, club-like tendencies. Don't get it twisted, side B Old was a rock n roll album. But like a maximalist rock record. He has that mindset. This too is a rock record, but in a more traditional sense. There is a cohesion to the music. It's not all manic energy and, uh, mania. The samples are — dare I say — classy. The flow is under control, but in a cool way. And it just sounds good. All eleven tracks seem to have purpose and focus and that Danny Brown touch. Fuck off Kanye with your religious bullshit, I worship at the alter of Danny. : )