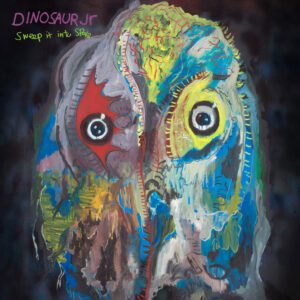 Dinosaur Jr. have been with me longer than time itself. Or so it feels. Yet it feels kind of like they've become Pearl Jam. In the sense that they put out albums every half decade or so to very little notice or care. But people will line their asses up to watch them live. I mean, many less for Dino Jr. than PJ, but their status as an active legacy act has cemented them in the annals of old-guy rock 'n' roll. Although Dino Jr. is arguably a much cooler hang than the legions of PJ hangers-on. Guitar solos and all.
To be fair, though, Mascis and the boys, Lou Barlow and Murph, definitely do it up on their fifth album since reuniting the original lineup un 2005. The second track, "I Met the Stones," sounds right out of the old days, complete with wailing guitar shredding and road weary vocals. Honestly, the album comes out of the gate rockin' not like a bunch of 50-somethings, but with loud, brash classic rock chugging that made them the world's loudest band three decades and counting. But if you're looking for something different out of this band, you are going to be disappointed. They are who they are. Mascis' croaky range remains limited. His cadence has been the same since Green Mind. Of course there is still nothing like a skyrocketing guitar solo from the man, and they are here in spades. Thank the gods. You even have a few Barlow tunes, including "Garden," which I heard him play in a backyard solo tour a couple months back. Those tunes are way more Sebadoh than Dino Jr., but I suppose even J needs to give up a little control every once in while.
Interestingly, one of the things I've found annoying about some of their more recent stuff is the production. It seemed blown out or overly compressed or something. It just was hard on the senses. This album, however, provides more separation between the instruments and just sounds better to my ears. It's not cleaner per se, but more balanced. And that may be because of the involvement of Kurt Vile on the album's production. Whatever you think of his music, the dude can make stuff sound good. And as an acolyte of Mascis, I'm sure he wanted to hit it out of the park.
All in all, this album isn't going to break any new ground (save a swinging tune, "Take It Back") or add any new twists to the music and legacy of this venerable group. But it is a true mish-mash of old and new that is remarkably solid for a late-career entry. Like I might listen to this album before some of the early reunion records merely because it's easier on my old-ass ears. Or more pleasing. Without being soft or compromised. It's a delicate balance. And while it may not have any of my favorite songs on it, as an album it still feels like a decent entry in a career of decent entries.