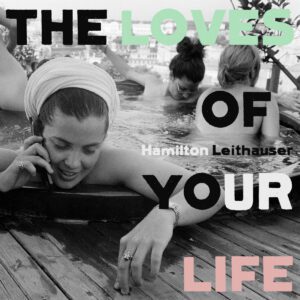 Hamilton Leithauser seemingly lives in a different era than the rest of the musical universe. And while his tunes feel timeless, they also don't belong to 2020. It could be because this album, The Loves of Your Life, is clearly a collection of memories of people in his past, but most likely it's his languid, layered approach to music.
Genreless and sometimes beautiful, Leithauser winds his way around a tune like few others. There are definitely tinges of "Maggie May," with his soaring, but raspy Rod Stewart voice and country-ish twang on tracks like "Isabella." And on others he does this almost troubadour talk-singing thing. But, even though the tempo and nostalgic approach is different on this, his second proper solo effort, there is certainly no divorcing him from his band, The Walkmen.
His songs remind me a little bit of some of the more tuneful Tom Waits stuff as well. I'm not really sure why, other than he doesn't really do the verse-chorus-verse thing. The songs are more shambling old-timey tales of people that have come in and out of his life. Granted, the dude is only 42, so it's not like he's telling stories about his buddies coming back "the war" or other such black and white things. But the music itself feels of that age even if the lyrics don't. Although it's not like he's talking about life in any modern sense either. The only hint this is taking place in at least the 20th century is a couple mentions of subways and buses. Otherwise, this could be just about any age.
It's clear that Leithauser has some aspiration to be our Gen X Bob Dylan. But on songs like "Cross-Sound Ferry" he ends up sounding weirdly like Paul McCartney singing lead on an early-2000s Wilco song. At least for a little bit, until his very Leithauser-ness kicks in. And that's the part that can make some of his tunes just a little bit more thrilling. That overdrive that he can kick into, where his voice strains and, for me, hits some pleasure center in my brain. It's not something that I'd love to hear every minute of every day. Just the same way you don't want to watch a fireworks finale all the time. But for those few moments, it's pretty spectacular.