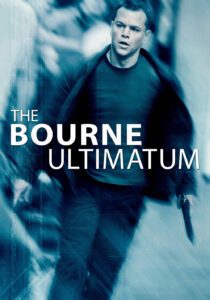 Picking up right where The Bourne Supremacy left off, Jason Bourne is thrown right into the fire when someone somewhere is sharing CIA secrets with a British reporter about the reconstituted Treadstone program (now called Blackbriar) that first spawned the likes of Bourne and his group of political assassins. The reporter happens to also mention Bourne by name in his article, and the CIA folks start to get itchy. So in a matter of "supreme" coincidence, Bourne is looking to get to the source of the reporter's stories, convinced that this person can help unlock more of his shady past, all while the CIA has pinned the leak of secrets squarely on Bourne himself.
So while Bourne is looking for the real source, they think he is the very source he's looking for. Everyone, including a reluctant Joan Allen, who is brought in track Bourne, seems to forget that he has amnesia, but whatever. In any case, Bourne needs to get to the reporter, who is also being followed by the CIA. Then the CIA, in a pretty absurd scene (although shot in an amazing way–enough to earn the film an Oscar nomination for editing), a CIA agent assassinates the reporter, missing Bourne, in the middle of a crowded London train station. How that wouldn't set off an international incident is beyond me.
So now it's up to Bourne to find the source himself. So it's a race between him and the guys trying to kill him to find what they want. All the while Bourne is having flashbacks of his indoctrination into the program, and is using this as a motivating factor. His nemesis during this is David Strathairn, who plays douchebag with amazing aplomb. Joan Allen is skeptical, once again, of Bourne's guilt, and Julia Stiles' character surfaces again (again, in a terrific case of coincidence) as a sympathetic conspirator and eventual entangled party. Meanwhile, Bourne drives motorcycles around third world countries and has one of the zaniest car chases in Manhattan I've ever seen. There are fight scenes that rival some of the best out there, and even a scene where he runs up the escalators at the Port Authority that my desk jockey ass climbs every day.
Greengrass has a frenetic style that never quite allows you to see exactly what's going on, and really keeps you on the edge of your seat. Hell, he even managed to reanimate Albert Finney at the end of the movie. Watching some of the extras on the DVD really gives you a great deal of appreciation for the amount of work that goes into these things. Shit, Matt Damon spent two days in a little bathroom for a fight scene throwing punches and kicks and getting his ass beat. It's going to be hard to watch him in anything else now, as I'll always be expecting him to lash out with a lightening quick chop to the neck.
Despite the grand sets, exotic locales and explosions this still somehow feels like a smaller movie to me. I'm not sure why that is, but I'm just assuming it's just a Michael Bay/Jerry Bruckheimer hangover. Once again these guys have made a solid action movie that doesn't smirk at itself (as many big action films do these days), but at the same time it's clear the filmmakers are trying to stay true to the character and the genre.