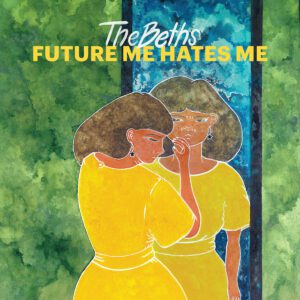 Look, man, I can't be all punk all of the time. In fact, as I age I'm getting less and less able to take discordant noise. So a band like The Beths comes to me and I immediately blow it off because of what I consider the god-awful album artwork, but something also compels me to listen because of their kind of old school-sounding name. And, what the fuck, they're good pop music. Like I actually enjoy the hell out of them. And I kind of hate myself for it. And then I notice the name of the album, Future Me Hates Me, and I know it's a sign. Although I would call it Current Me Hates Me For Liking What Past Me Would Make Fun Of Me For Liking.
But would I really? I mean, I've always kind of wanted to like hardcore music and everything it attends, but time after time I find myself drawn to the poppier side of things. I found myself bopping to The Art of Losing, for god's sake. And every time Apple Music sends me my my weekly new music mix filled with female-led indie pop I shake my fist and curse the Cupertino wizards and tell them to go fuck themselves and that I hate their shit and want to poison their green juices, but then I realize that perhaps their algorithm knows me better than I know myself. And I hate them for it. And I hate The Beths for making me love them. I'm hardcore, man, and I don't dig on melody and hooks and pop-laden tunes.
But I do. I really, really do. And, apparently, I really like female lead singers with bangs from Oceania if my love of this album and pretty much everything Camp Cope does is any indication. There is just absolutely nothing to not love about Future Me Hates Me. And, trust me, I looked. Even the doo-wop background vocals on several tracks of lead singer, Elizabeth Stokes', male counterparts that could come off as cheesy in other applications are just downright charming and excellent. I really wish Flight of the Concords was still around so they could squash their New Zealand inferiority complex and vanquish their Australian enemies and shoot Midnight Oil and Hoodoo Gurus into space with some Beths energy.
The amazing thing is that there is not a single weak track on this album, and the second half lives up to the first. It's just a joyous burst of pop loveliness. But it's also not so twee that you feel like a complete sell out playing it in the car really loud. It rocks in a very specific, 90s kind of way that feels great. I can't really explain it other than to say that it feels familiar, but fresh and progressive. The production is spritely and not weighed down by horrible reverb, fuzz or swirling darkness. It's a rock record, and a good one. Definitely one of the top 2018 albums in my book. Hardcore or not, it's hard not to love The Beths.