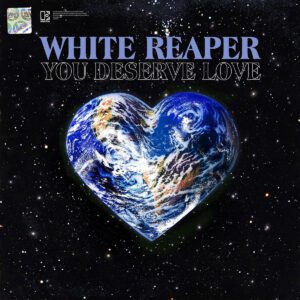 You know how Weezer always aspired to be Cheap Trick? Well it now seems that on their major label debut, White Reaper aspires to be Weezer being Cheap Trick. So, second-wave Cheap Tricksters? I don't know.
But what I do know is that White Reaper — on their third album and first for a major label — have gone full-out power pop, clearly aiming for a wider audience than their earlier garage punk albums. Thing is, both their first record, White Reaper Does It Again, and their sophomore effort, The World's Best American Band, made my best-of-year lists. Their titles alone reflected the cocky, winking swagger that brought the fun back to rock 'n' roll.
You Deserve Love certainly doesn't find White Reaper getting all self-serious or even really maturing the way so many indie rock bands feel they must do when being handed some cash from a more corporate partner. They definitely feel like the same band writing very similar songs. What has changed, really, is the production of said songs. They've cleaned things up in a way that was initially off-putting to my ears, but has mellowed with multiple listens. The thing that becomes more obvious with the shiny production is the bounce that these guys employ in their songs. They're practically danceable.
Nothing made this more evident than seeing them live at Bowery Ballroom on their tour supporting this album. The young twenty-something ladies bopping and jumping around to these latest tracks changed my perspective a bit on their appeal. Whereas the first record appealed to my love of the Jay Reatards of the world and the second album to my love of The Strokes, this one pushed out past that into larger aspirations of whatever is left of the stadium rock that is often associated with those 70s bands that I was never a real fan of.
And, yes, at first I was put off but the, uh, smoothness of the whole thing, but as I kept listening I came to appreciate this short, ten-track album as a pretty great pop gem. It's not trying to do anything other than make hook-filled guitar music with a truly classic sound. And the shit swings. It's head-bobbing and foot-tapping. And is, in fact, danceable. I'm not used to calling much of my music "fun." But this is just that. It's sort of life-affirming and positively driven in a way I'm not used to. I'm starting to realize, though, that we need some of this upbeat stuff in our lives. The sheer joy on the faces of the kids at their show confirmed that what I feel when I listen to it. It's not a feeling I'm used to. But, you know what? I could get used to it.