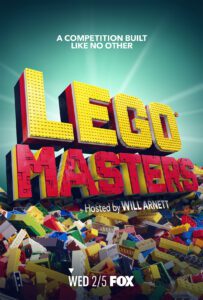 What happens when you create a show that is actually an expensive ad for plastic bricks? Well, you already have a LEGO movie franchise. And a string of LEGO theme parks. So why not create a stupid show as well? After all, that other stuff has been successful. So who's to think this wouldn't be? Well, I can tell you that this was one step too far. Though I did learn one thing: the plural of LEGO is LEGO.
I also found out that Will Arnett can be super annoying when he does his Gob thing outside of Arrested Development. Because that's essentially the character he's playing as host of this LEGO-building competition show. It's terribly unfunny, though I think perhaps he knows and understands that, which makes it even less funny. He delivers the canned lines and dad jokes like he's embarrassed to say them out loud. Mainly because they're embarrassing.
The show itself adheres very closely to every single competition show you've ever seen. Each week a group of two-person builders teams is given an assignment to build something specific out of LEGO. The teams are made up of couples of different stripes. One married couple, a father and son, co-workers, friends, etc. The only thing they all have in common is that they really fucking love LEGO. And then each week their builds are judged by a couple LEGO employees (while Arnett goofs around and makes bad puns) who eliminate one of the teams. Until there are three left for the finale.
In addition to LEGO, the show is an ad for MS Surface tablets, a couple Fox shows, Star Wars and probably some other stuff that was subliminally beamed into my brain. I mean some of the stuff they create is pretty impressive, but the thing feels very samey, samey from week to week. Also, watching people build LEGO stuff over a 24-hour period is not in any way interesting. The timeframe is too long and the dynamic of people clicking little bricks together doesn't make for good TV. So we get Arnett saying stupid stuff, some fake drama when one of their pieces falls apart and some weirdness that there are enough adults into LEGO to make a show out of it.
Because, despite Hipster Jr. Jr. picking this show, it's not necessarily a kid's show. The builders are adults. With the exception of one episode, all of the guests are adults. The contestants are all adults. The content is certainly PG, but nothing in the program itself seems particularly aimed at children. So it's unclear if this is LEGO's attempt to market to adults or they just kind of missed on the audience research. I could be a total dummy (which is probably a given if you've read anything on this site), but this feels like a show that would be better suited on Disney XD and targeted specifically toward a younger audience. Get like one of the kids from Walk the Prank or something. I can't imagine they're that busy.
Look, I'll do anything to spend time with Hipster Jr. Jr., but even I have my limits. There was something just not right about this thing that felt weirdly exploitative. And not even in a crass, commercial kind of way. But almost as if poor Will Arnett was somehow tricked into this gig in some subsection in his LEGO Batman contract. And then he's locked in for days at a time in a thrown-together studio with a bunch of geeks. The whole thing is just uncomfortable. somewhat torturous and, ironically, kind of uninspired.