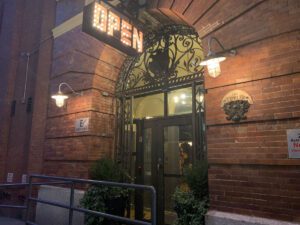 It seems I'd been to The Tippler once before. The basement space, decorated like a Baz Luhrmann film, is very memorable. Yet my memory failed me. It was vaguely familiar, but somehow distant. And then it snapped into place. Post-holiday party. That was it. Our journey from free mixed drinks, semi-formal gear and merriment led us to a joint that feels vaguely like a movie set in a meandering subterranean space whose very existence is vaguely confounding.
My understanding is that this bar sits underneath Chelsea Market. It is literally what should be the cellar where they store like extra sheets of plastic, cleaning supplies and rat feces. But instead they've taken the brick-walled space, added vintage wood, tile and rugs, classical ceiling paintings and twinkle lights and made something pretty darn cool out of it. Descending the metal stairs to one level and then the next, it almost feels like you're being led to your demise. But then you emerge into this warm bar and are left wondering if you've found a hidden gem.
But, of course, the answer is that you have not. Every joint in the city is known and well-known by thousands or millions of others. Including The Tippler and its well-heeled Chelsea and Meatpacking audience. And why not. It's great to look at. The staff is friendly and on top of their game. They apparently make fancy-pants mixed drinks (because who doesn't these days?) and the overall experience is super-pleasant. It honestly made for the perfect spot for after-work beers in an atmosphere that felt at once professional and cool. I'm usually partial to dive bars or beer joints, but even Mr. Hipster has to occasionally act like an adult. And The Tippler allows for that without feeling like your boomer parents.
---
425 W 15th St. (btw 9th & 10th Ave.)
212/206-0000
thetippler.com
---