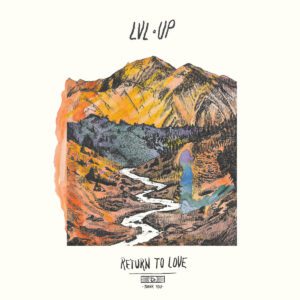 I believe this is the second LVL UP album I've reviewed in 2016, but why not stick with what you like, right? That said, I loved that first album, 2014's Hoodwink'd. It was like an amalgam of all the indie rock I loved from the 90s squashed into one album. So I was set up for the inevitable come down of this album — because that's what happens when these DIY bands move to a major label (in this case, Sub Pop), get some money to record and just kind of lose that edge because they think their music, now that they're actually getting paid, needs to be more "serious." The thing is, I think they only kind of got half way to that come down. A weird thing to say, I know, but I'm finding myself torn over the mellowing that has apparently taken place here. Well, not mellowing, but maturing, maybe, into a more mellow and considered band.
So while maturation is normally seen as a good thing, I often (as I've said a million times on this site) tend to like and cherish the more raw, debut or sophomore albums of just about every band I love — with notable exceptions. Take, for instance, a band they've kind of emulated, Pavement. Their debut, Slanted and Enchanted, is a sloppy mess of a phenomenal album. Their sophomore album, Crooked Rain, Crooked Rain, is equally as awesome, but in a completely different kind of way in its more structured greatness. Then comes their third, much maligned, album, Wowee Zowee. When I first heard it, I did a double and then a triple take just trying to get to the bottom of its initially perceived weirdness. Its rambling, Cali chill. It's almost anti-seriousness. This is that album. I didn't get this album at first. I listened to it through headphones the first couple times, and the air they attempt to put under it just wasn't coming through. I then sat in what I like to consider my personal listening space and cranked it through a nice A/B four-speaker stereo setup. And the thing just spoke to me in a way it didn't isolated in cans. Perhaps the image on the cover of the river cutting through that valley is supposed to a be a metaphor for the expanse of the music… Perhaps the rather stoney quality of the music is just getting to me.
Whatever the case, this thing is a definite grower and something I can see listening to on a regular basis — but like as a "personal" album and not a sharer. It's also inspired me to break out Wowee Zowee and some of my old Silver Jews albums and go to town.