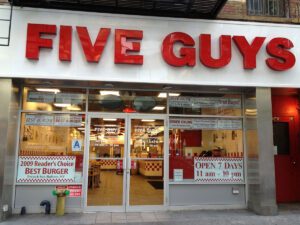 Five Guys never seem to be clean. Maybe it's the white tile motif or the fact they don't have enough staff. Or the fact there are peanuts in a pile that people grab and throw on the floor and usually sacks of extra potatoes seemingly strewn about. But every Five Guys I've been in seems like it needs a good hose down and perhaps an extra set of hands to throw away the napkins and cups inevitably left on the tables by its slovenly patrons.
Or perhaps it's because Five Guys is mostly just grease and salt. Or is it salt and grease? Whichever is the case, there is absolutely no way to avoid either element when eating in one of their hamburgeries. It's especially evident when you grab some fries to go. As your brown bag gradually works itself toward transparency.
I'm not sure what happened to guys one through four, but my suspicion is they died of coronary disease after eating one too many of their own burgers. But at least they probably enjoyed the journey. Because I do find their burgers pretty tasty in an old-fashioned, paper-hat kind of way. They just feel a little more blue collar than some of the newer, fancier chains. Perhaps it's their simple color scheme (which seems almost plain wrap in a way), the relatively simple menu or the fact their burgers are often times not exactly pretty. Whatever the case, there's something wholesome and throw-backy about the whole experience that seems to have started much before they started franchising these places back in 2003.
The most divisive thing on Five Guys' menu is bound to be their fries. They are the rough-hewn type with the semi-skin-on thing. Which I know isn't everyone's favorite fry variation. Also, if you're allergic to peanuts in any kind of way, you should avoid this joint like the plague. Not only are there peanuts just sitting around in some locations, their fries are cooked in peanut oil. Which in itself feels like a relic of another age, but in my opinion gives their fries an earthier taste than some of the other burger joints. I mean, they are greasy and salty and just plain delicious. Kind of what you imagine fries were first like when they came up with the concept.
This location may be surrounded by all that the MSG area entails, but not only is it one of the only fast casual burger joints in the area, it's the first place (or one of) I ever experienced one of those Coca-Cola megalopolis machines that has like 96 flavors of Coke to choose from. So, if you, like I find yourself near Penn with some time to kill and a hankering for hot beef… Well, that's disgusting, but this place isn't that disgusting. Which I suppose is high praise for a guy like me.
---
343 7th Ave. (btw 29th & 30th St.)
212/564-9804
fiveguys.com
---