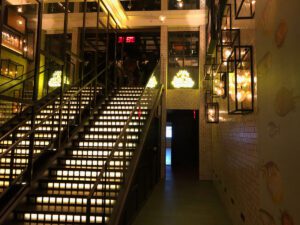 There is nothing better than a pun-named seafood restaurant. But I would have gone with Something's Fishy or Don't Be Sailfish or Tide You Over. Not necessarily appetizing names, but this wasn't necessarily an appetizing restaurant. It is, in fact, a restaurant sort of inside a quirky Times Square hotel, which was something I was completely unaware of when Ms. Hipster and I made a last-minute reservation. That meant that the crowd was generally folks either wandering over form Times Square, tourists or both. Maybe, definitely both.
Rockin' an incredibly overly-fussy brasserie thing, the space is on the second floor and looks as though someone took Balthazar, wrung any of the authenticity out of it and hit the whole thing with a rivet gun. There are literally rivets (or whatever those kind of rounded head things are that one uses to tack down leather) in every nook and cranny. The tables, the chairs, the bar, the menus. The floor is some sort of octagonal tile inlaid with gold stencil and the walls the typical white subway tile with dark grout, while some of the pillars are black subway tile with dark grout. There are windows that look like you should be able to see out of them, but you can't really because they're covered in oddball shades. Most likely because the environs are pretty damn gross, and they don't want people being disturbed by scenes of neglect and unwashed bodies.
So what does this all mean? It means a restaurant that is both a visual and aural cacophony. Eating here is confusing to the eye and an all-out assault on the ears. This is both because of the fact that both Midwesterners and Europeans were never taught that talking at full volume at all times isn't a thing. They think "soto voce" is a frozen pizza brand or like a silk cut cigarette or something. Combine this lack of volume control with the bathroom-like hard surfaces of the space and you get something that is ironically louder than the engine room of an ocean liner. And I don't want to cast aspersions on dog people because I love dogs and had dogs growing up, but we were there during the Westminster Dog Show and, let me tell you, those dog people are really fucking weird. And one particular woman next to us was either allergic to her dog or had a fish bone stuck in her throat because she did not stop coughing for the entire time we were there. I could have been eating three-Michelin-star cuisine and it still would have knocked anything down a peg because coughing is disgusting.
What we did eat was actually pretty tasty and then it wasn't so much. Our drinks were not bad. I've had worse. I've had better. But our appetizers were actually decent. We had spicy crab beignets with chipotle crème fraiche and something called butter powder. I can't imagine butter powder is a real thing, but the Legasea fairy bestowed it upon our seafood pastry thing and we didn't die. We also had one of those tuna tartare piles with avocado, lavosh cracker and soy ginger vinaigrette and it was interesting texturally and tasted not half bad. I'm going to assume I had some fish for dinner, but I literally have no recollection of exactly what it was. That's how memorable it was. But whatever I had wasn't cheap. And it took a long time to get to us — like a really long time. Like midtown tourist long. Like sitting next to a chatty, coughing woman with an annoying accent long. I suppose it's like the New York experience that some out-of-towners expect, but as the real mccoy, there are better, cheaper options out there that don't treat you like a human who is never coming back. Gone fishin'… elsewhere.
---
485 7th Ave. (bet. 36th & 37th St.)
212/268-1888
legaseany.com
---