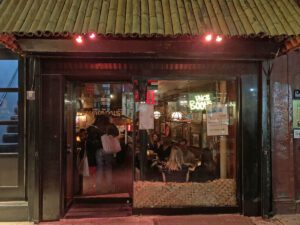 [CLOSED]
This place is bonkers and bananas and also bonkers. Or b 'n' b 'n' b for short. This Uncle Boon dude has hit on an idea that seems simple, but makes getting a table here at any hour of the day more impossible than capturing a fart in the wind. An apt metaphor after a meal here, trust me.
And why, you may ask, do the kids flock to this joint faster than the idea of "hard seltzer?" Well, the owners have found that excellent balance between fun and really good food. Yes, it's true. Kitsch, while usually indicative of garbage grub, can also be high quality and a blast to boot.
Do you like spicy stuff? The answer to this question (once posed by Hipster Jr. to Bobby Flay on an episode of Worst Cooks in America) better be a resounding "Yes!" Because pretty much everything that came to our table — including the bizarrely spicy Barrier Uncle Boon's Brew — tried to peel the skin off your face. Thai food: whataya gonna do?
Like any menu, there is a lot of stuff that we kind of closed our eyes and pointed to, assuming everything would be delicious. Seriously, though, we were right. So much flavor. So much heat. The food hits your taste buds everywhere. And because of the wait (they take your number and text you when your table is ready), my dinnermate and I were well into our cups when we sat down. So moaning and cheering was totally acceptable.
Here's what we ate.
Yum Gai Hua Pli: Spicy rotisserie chicken & banana blossom salad with cashews, crispy shallots and roasted chili dressing. I didn't even know banana blossoms were a thing. They are and they're great. Fuck yeah, spicy salad!
Khao Soi Kaa Gai: Curry with egg noodles, chicken leg, pickled mustard greens and fresh tumeric. Imagine an amazing spicy Thai beef stroganoff. Fuck yeah, chicken stroganoff!
Kao Pat Puu: Crab fried rice with egg, cilantro and lime. It's like fried rice, but totally awesome. Fuck yeah, crustacean!
Pla Muuk: Grilled baby octopus. I still feel bad about this one, but this is my last one. I promise. Fuck yeah, smart but so, so delicious!
That was a lot of food. And, like I said, our stomachs were already filled with beer when we walked in. Plus, I drank about four gallons of water fighting off the spice. And all this is imbibed in tight space that is packed with folk art paintings and tons of Thai schtuff. The tables and walls are rough hewn and the whole place has this kind of stuck together feel that is part authentic and part totally lower east side NYC. It's an amalgam of the world it represents and the world in which it lives. Which is perfect. And it's loud and raucous and people are sweating and drinking lots of crazy strong cocktails. It's kinda perfect.
---
7 Spring St. (bet. Elizabeth and Bowery)
646/370-6650
uncleboons.com
---