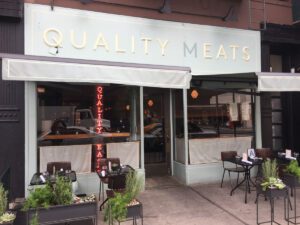 Quality Eats is kind of what mid-level New York eating is all about. It qualifies as a steakhouse because of the steak on its menu, but it certainly wouldn't be recognizable as such by your typical patron of your more traditional meat factories like Wolfgang's, or an even more old-school joint like Old Homestead. The restaurant's glitz is turned down to casual-but-classy levels, infusing the decor with that rustic, but high-end retro thing that the West Village does so well. The lights are lowered to the point that you end up essentially dining by candlelight and the noise is cranked up to the point that talking sotto voce to a dining mate is not even an option. The seating is cramped and, in some cases, a little awkward, but the air of the space as a whole is buzzy and fun. So, basically, modern NYC dining.
In terms of the food, the menu is certainly meat-heavy, but there are also a few non-steak options for our cow-hating friends and destroyers of everything fun. My steaks — the two times I've been there — were both decent, but not necessarily the best steaks I've ever had. They are, however, at $24 and $27, a couple of the more affordable ones I've consumed in the city. That said, steak is steak. I mean, you can prepare steaks in different ways, of course, and eat different cuts, but, ultimately, it's a slab of bovine flesh and doesn't have a whole lot of range all on its own. The preparation here isn't French or anything, so it's not covered in rich sauces or smothered in herbs, so what you end up with is meat in its most natural form, but grilled. And the meat was just fine.
So where to go with places like this? Drinks and appetizers, am I right? And on that front, Quality Eats, is, well, pretty quality. Now, I don't dig on swine (as I've stated in no less than twelve reviews over the years), but apparently people are really into this Grilled Nueske's Bacon thing, which is a thick slab of bacon slathered in peanut butter and jalapeño jelly. That sounds like a nightmare to me, but seemed to be a big hit with my compadres as they battled over the last morsel and chugged beer as they wiped away tears. I had a delicious squash soup and another app that was Grilled Bucheron Cheese on a baguette that was absolutely awesome. I mean, grilled cheese on bread should be something that all non-lactose-intolerant folks should be down with. As is now the norm, the drink menu is filled with some concoctions of someone's invention. I don't know if I'm going to order something called a "Yellow Snow" (Mezcal, Vodka, Coriander & Lemon) but the one or two Old Fashions I got were not bad. The draught beer list numbers two, but there is a small, but diverse, list of bottled beer that seems to rotate often enough that their printed menu wasn't up-to-date either time I was there.
So, the thing is, sometimes a meal isn't completely about the food. It can be about the place and the atmosphere and the company you happen to be keeping that evening. If I was going to Picholine or Jean-Georges, I'd expect couth, but when I go out for a night of fun, I want the noise, the rich food and drink and the environment that very New-Yorky restaurants like Quality Eats afford me.
---
19 Greenwich Ave. (bet. W 10th & Christopher St.)
212/337-9988
qualityeats.com
---